Date: 06/21/2020
Reading time: 11 minutes
Share on
We have all been there! And so we all know that moving is a giant task. Whether it is a local or interstate move. There is just so much to consider! You need to arrange a reputable relocation company. You need to pack… And let's stop right there. Packing is one of the most time-consuming aspects of your move. Packing for a move alone can drive you up the wall. BUT not if you have all the correct packing and moving supplies that you need! Here is a guide that will help you every step of the way to ensure your move is as smooth sailing as can be!
Contents:
Different Types of Moving Boxes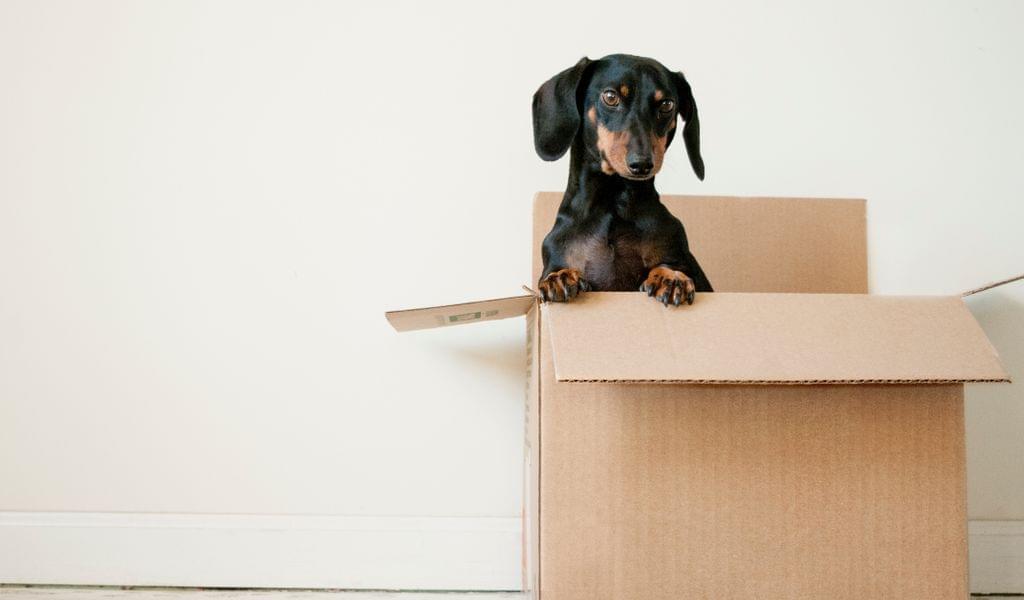 The moving process can be tricky at times, this we all know! From packing to transportation and everything in between – there is a lot to think of. And that's why you need all the nifty know-how to make your move as easy and smooth as possible. Having the right moving supplies on-hand is undoubtedly the best way to make your move as easy as possible. Let's start off with the basic – the boxes you will need. And yes, you will need different boxes. These vary from different size boxes to specialty boxes, wooden crates, and more. A quick overview of the different types of boxes you will need when moving.
Different size boxes
Don't neglect the finer details. You are definitely going to need small, medium, and large boxes. Try to get a good mix of the following size boxes:
12 to 14 inches
14 to 18 inches
18 to 24 inches
Wardrobe boxes
Wardrobe boxes work like a charm! It makes the packing and unpacking of your clothes a breeze, saving you time and effort.
Specialty boxes
Specialty boxes when moving will be one of the best decisions you can possibly make. From telescope boxes, TV boxes, and more. There is a specialized box available to protect, and safely transport your most valuable belongings during a move. These boxes are ideal for preventing damage to fragile items.
Insulated foam containers
If you need to move refrigerated and have frozen items, insulated foam containers are the right moving box for you. These are designed to keep items temperature-controlled during transportation and moving.
Plastic bins alternative
If you have air-tight, plastic bins you can use them for all sorts of packing. From fragile items, to cords or electrical items. You can easily label plastic bins to help you run an organized ship while moving.
Bankers boxes
If you are relocating interstate, you might need to move your office. Don't forget to get some bankers boxes to make things a little easier. These stackable boxes are the ideal solution for moving offices.
Lamp boxes
This is one you probably did not think of. Lamp boxes. Floor lamps (well, lamps in general) are not easy to move. They break without effort and they are simply a pain to handle during a move. And here come lamp boxes to the rescue. You will not regret getting these if you happen to have a few floor lamps of your own.
Wooden crates
Should you be moving large, valuable items such as artwork or antiques, consider industrial wooden crates. Made from thick plywood they are sturdy and reliable. They are secured with steel clips and have removable panels to make moving items in and out of it easy.
Specialty Moving Boxes Make the Move Easier!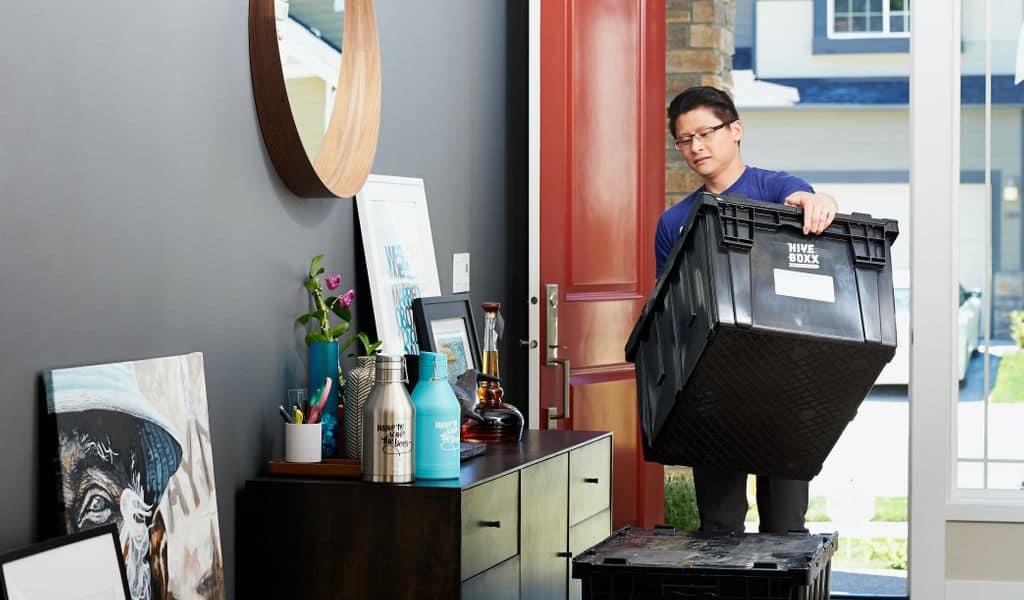 Specialty moving boxes are just one of those incredible tricks! Let's look at different types of specialty boxes and how they can help you!
Space Saver Wardrobe Boxes
Moving leaves you with much to consider – not to mention the number of things you will need to do. Folding clothes and packing it in boxes is time-consuming and you will need to re-hang and repack all the clothes in your new home. Which makes it like a double time-consuming activity. And that is why we love space saver wardrobe boxes. All you have to do is transfer your clothes into the wardrobe boxes and voila – you're good to know.
Boxes for Electronics
Electronics like computer screens, tablets, laptops, gaming consoles, and more need to be protected during a move. That's obvious. However, when we purchase these items, we often toss the box and that's the end. But when it comes time to move, we will need boxes to protect our (often expensive) electronics during a move. Luckily for you, there are moving boxes specifically for electronics. Giving you one less thing to worry about during your move.
Plastic Moving Boxes
Cardboard boxes don't always cut it when it comes to packing. Especially when you are packing heavy items or items that need extra protection from water, light, dust, or dirt. Plastic moving boxes are more robust than cardboard moving boxes, which makes them particularly useful during a move. Another great thing about plastic moving boxes – even if you purchase them especially for the move – you can reuse them again and again and again. Not to mention that they are great for extra storage space.
Picture Boxes and Mirror Boxes
Easily protect fragile mirrors and picture frames by using mirror boxes or picture boxes. These boxes are designed from protecting your most fragile items from getting smashed or cracked during transport.
Kids' Boxes
It is always a good idea to have all your kids' belongings close at hand. Use boxes specifically for all your kid's stuff to make it easier to find. Especially boxes for their favorite toys. This is a hack you don't want to forget. Moving with kids is not always the easiest task and when they do get restless it helps to comfort them with their favorite toy without having to search far and wide.
Glassware Moving Boxes
Moving glasses, plates, and other delicate dishes are nothing short of nerve-wracking. These items can easily break if you do not have the right boxes. You need durable boxes that can protect these items during a move, in which bumps and some handling is to be expected. These specialty moving boxes should be able to withstand the pressure of these bumps and even if other items are piled on those boxes. Glassware moving boxes can save you a lot of money in broken items that need replacing.
TV Moving Boxes
Moving a flat-screen TV is so much easier if you use a TV moving box. Not only does it become clear to the movers that they are moving an item that requires care but these boxes are designed to make moving TVs of various sizes easier and more convenient.
Picture Boxes and Mirror Boxes
Easily protect fragile mirrors and picture frames by using mirror boxes or picture boxes. These boxes are designed from protecting your most fragile items from getting smashed or cracked during transport.
Day-of-the-move Boxes
Yes, the day of the move boxes are important and can make your life a lot easier when you need those essential items during your move. Label these boxes accordingly and use them to box and transport all the items you will need fairly soon. It saves you time and effort and takes the guesswork out of finding the box with all your immediate need items.
How To Get Moving Boxes For FREE!
Moving will never be an easy task. You require various checklists and you need to pull in all the necessary resources to make the move happen. Likewise, there are quite a few costs involved. From hiring a moving company to moving insurance and more – it all adds up. Saving on moving costs is something we all strive for and that's why we are going to tell you where you can get moving boxes absolutely FREE!.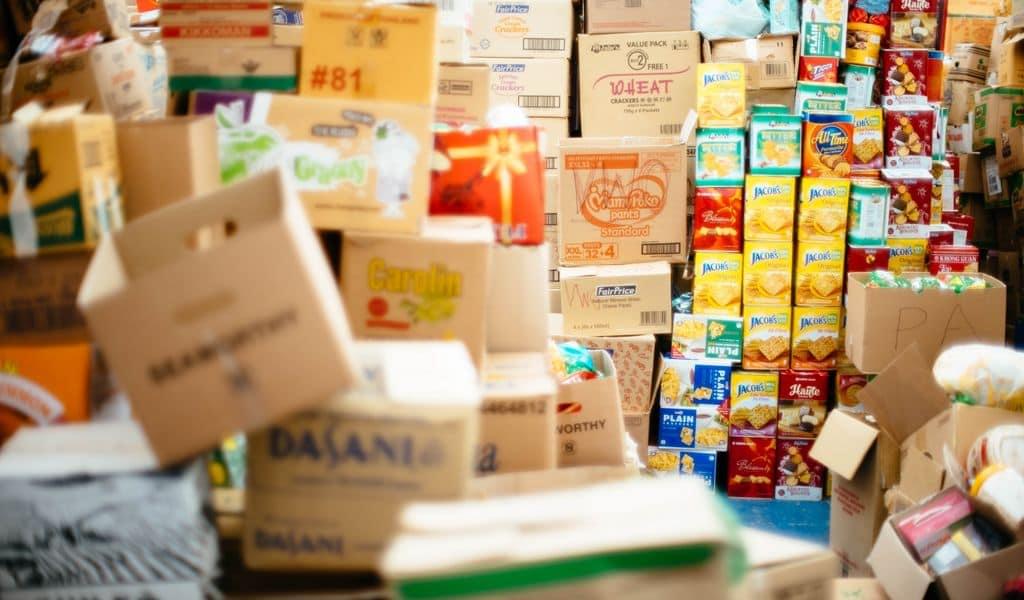 Bookstores are a great place to start. Especially if you have books of your own that you need to pack. Bookstores will more often than not be happy to get rid of empty boxes. Simply visit a few of your local bookstores and stock up on some free moving boxes.
Try your local liquor store! These boxes are often smaller but sturdy. You will no doubt find many uses for them when you start your packing process.
Moving boxes hack – Craigslist! After a quick test on the free section of Craigslist, there were more or less 20 resources offering free moving boxes. This is a great money saver option.
Grocery stores always have boxes! Visit your local grocery store and ask them to keep boxes aside for you. Chances are that they don't mind and you save money on moving boxes.
One word – Freecycle. Find your local group and join the group. Simply type "free boxes" in the search engine and you don't have to spend any money on moving boxes.
Facebook, of course! You can use Facebook in a number of ways. Firstly, you will find a great deal of 'freecycle' groups in your city. Join these groups and stay on the lookout for free moving boxes. Naturally, you can search for 'free boxes' posts within the group. Another way is to search for pages like these! McDonald's fry boxes! So, word is that these boxes are strong and ideal for moving heavier items. By joining the Facebook page you might be able to get your hands on some free McDonald's fry boxes. Chances are that there are tonnes more of similar pages.
10 Must-Have Packing and Moving Supplies
So, you are planning a move and you need to buy all the moving and packing supplies. But what do you need? Well, firstly you need a checklist. Failing to get the correct packing supplies or moving supplies can make your move nightmarishly difficult. And that is what we are trying to avoid. Here is a list of moving supplies that are essential!
You will need a number of packing supplies, which include:
Bubble wrap – Bubble wrap is great for protecting fragile items and gives you the peace of mind you need during transportation of your belongings.
Packing paper – Packing paper also offers a variety of purposes that are useful during a move. Leave your items ink-free and ditch the newspaper.
Moving boxes – Moving boxes are a MUST! Don't miss the section on specialty moving boxes and how they can help you.
Moving blankets or furniture pads – These are great little gadgets. Not only do they protect your valuables but they can actually make moving heavier items easier.
Padded wrapping paper – You will realize that during the process of packing all your belongings, you will want to protect EVERYTHING! Padded wrapping paper is something you will want to keep close at hand.
Stretch plastic wrap – Need to keep a few things together? Try stretch-plastic wrap. It works wonders to make packing items quick and easy. It works wonders to keep dresser drawers, for example. Don't forget to use them for your cutlery and utensil trays. Stretch plastic wrap is a hack for hassle-free moving.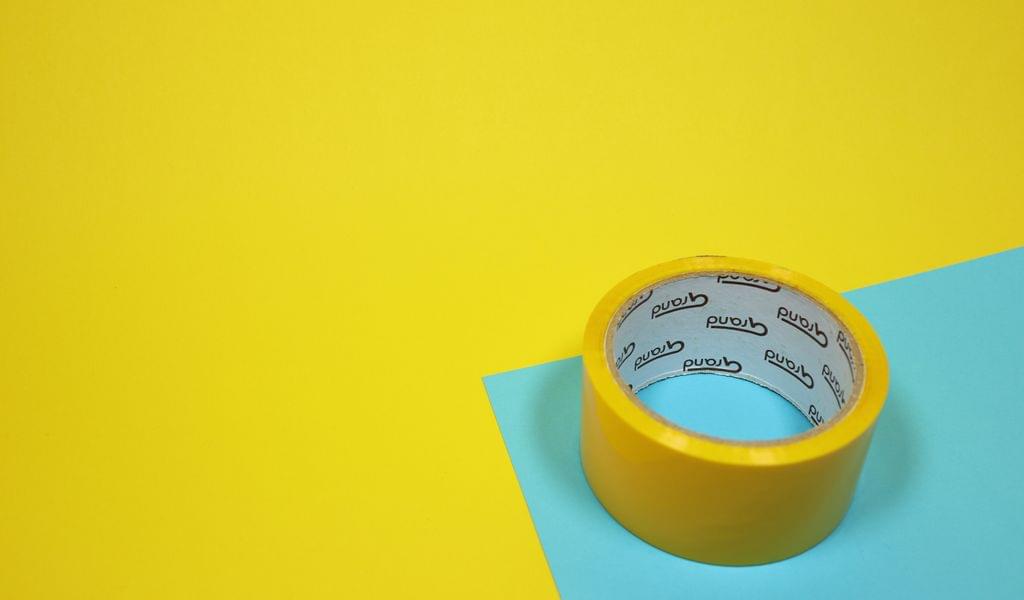 Heavy-duty packaging tape with tape gun – Go for the heavy-duty packaging tape! It holds the boxes together well, which means you have less of a risk of all your goods falling right through the minute you lift the boxes. A tape gun just makes things breezy and is well worth the purchase (even if it is just a convenience factor). Tape the box in a criss-cross for extra durability.
Permanent markers – A bit of prep work goes a long way. Permanent markers are easy to use on boxes and help you stay organized and on top of your list. Another essential to your moving supply checklist.
Trash bags – And probably quite a few. Trash bags are versatile when it comes to moving. Not only can they be used for packing and easier transportation of some items but they will also come in handy when the decluttering process takes place. During your packing process you will probably find quite a few things you would like to get rid of. Trash it immediately and get rid of it. Moving it to your new home will only delay the event of getting rid of things you actually don't need.
Ziploc bags – These little lifesavers are great for moving! Use Ziploc bags to keep things together. And you will be so grateful for when the time comes to unpack. Ziploc bags also offer some degree of water damage protection, which is just another reason why you should add it to your checklist.
Mattress bags – Protect your mattress during a move by using mattress bags. Keeping things clean during the move, makes it easier once settling into your new home.
Here are moving day supplies you won't be able to do without:
Movingtruck – This goes without saying. Your moving company of choice will bring along the moving truck and help you from there on out.
Box cutters – Opening boxes sealed with heavy-duty box tape is not the easiest task in the world. You will definitely need to consider box cutters to help you open boxes easily and conveniently.
Hand trucks for heavy items – Dollies work well to move bulky items. It also allows you to transport a number of boxes at a time.
Cleaning supplies and paper towels – Keeping things clean as you move along is a good idea. Don't forget to stock up on cleaning supplies and paper towels for the day of your move.
Bungee cords – Moving gliders and moving straps can really help you move the heaviest and bulkiest items you have. Used to transfer weight to make it easier when carrying or moving heavy items, it is a purchase you won't regret.
9 Tips How To Save Money On Moving Costs
Moving home is an expensive affair. This is something we are all well aware of. Moving on a budget is not always easy. Especially if you are planning an interstate move. The moving costs just become enormous. Luckily, there are proven ways how you can cut your moving costs and save money! We are going to let you in on all the secrets…
Time is Money!
Let's start off with logical reasoning. The more time you save – the more money you save. And this starts with having a thorough moving plan. Whether you are moving interstate, downsizing, or simply moving to a new house closer by – you will need a plan! Even more so if you are moving with kids. If you do not organize your time efficiently and plan, you will run off schedule, which could ultimately cost you more money. Having a checklist for moving is the way to a smooth and painless (as much as possible) move.
You NEED a Moving Budget
It is always important to stay in control of your finances – especially when moving! A moving costs checklist is a great place to start and it will look something similar to this: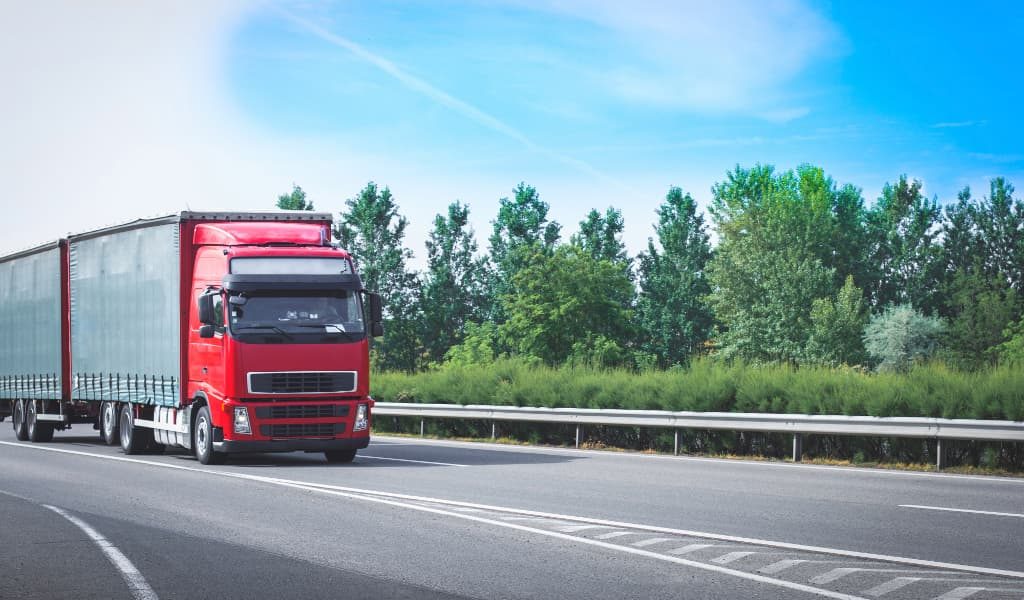 This will undoubtedly be your largest expense as you will soon find out (if you haven't already). Factors that will impact the price you are going to pay include the move distance, the weight of all that needs to be moved, the general movers' tariff, moving insurance, and other related extra charges and fees.
When you receive your moving cost estimation, it is highly advisable to discuss this with your moving company in great detail. To save costs, you need to ensure that you completely understand what it is you are paying for and what other additional costs might be added.
Firstly, you need to ask yourself: Are you really up to the challenge? You will need to consider renting a truck, you will spend money on packing and moving tools, you need to pull a force of manual labor. So, although you might be on a tight moving budget, DIY moving might not be as cost-effective as you would expect. However, if this is the option for you, create a moving budget, and allocate moving resources accordingly.
Moving costs estimation & saving money
Let's have a closer look at moving cost estimation. Although you might not be able to determine your moving cost estimation with 100% accuracy, you will need to get a close as a possible estimate to determine what it is you need to pay for a relocation. This is especially true if you are planning on a local move or interstate move. Usually, an in-home survey takes place. This will be done by your moving company of choice. Always insist on a written moving cost estimate. Choose three best options for a moving company near you, request moving estimations, compare and see which option best fits your moving budget.
Choosing your move date
Here is a surprisingly effective hack for saving money on your move! Before deciding on your local or long distance mover, consider the date that you intend to move. By choosing to move out during the off-peak season, you can drastically cut down on your moving costs.
Lighten the load!
You can save on moving costs by doing as much of the packing as you possibly can. Sure you will have to work harder but it will trim the dollars off your moving costs.
"Free" can be cost-effective
If you don't have to spend money on something, then don't. There are various ways to get free boxes. A section we have covered – don't miss it. With clever ways of getting moving boxes for free, you might be able to loosen your budget for other, more important things.
Think outside of the box!
Free boxes go a long way to cut moving costs. Another great way to reduce your moving costs is to 'think outside of the box' – pun intended! There are so many alternatives that you can use for packing. Think drawers, Ziploc bags, baskets, bins, suitcases, bedsheets, and jewelry boxes are only some of the options available to you.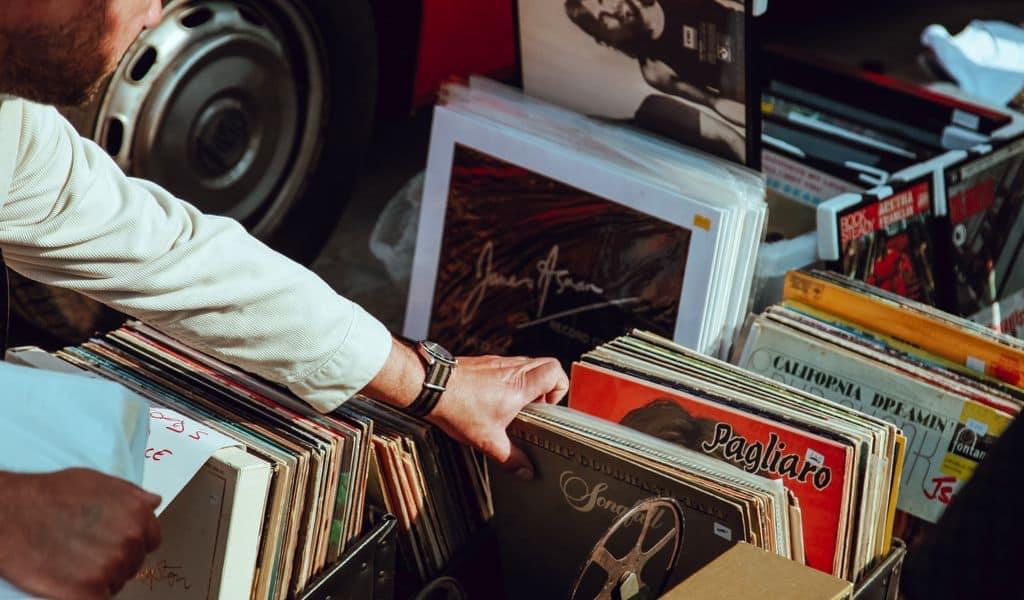 Sell unwanted goods…
Now we are talking about making money during your move or relocation. It is the perfect time to sell all your unwanted goods – and make some money. You can use this towards your moving budget or perhaps for small improvements in your new place. Or repairs to your old place. Either way you will be saving money!
Tax-deductible moving expenses
Visit the Internal Revenue Service (IRS) official website to see if you qualify for tax-deductible moving expenses. There are a few compliance factors as well as terms and conditions (as with everything). But it is definitely worth a peek!
Pack and ship guarantee
The stress of packing and transporting all your valuable items can be a daunting one. To give you peace of mind to ensure that you find the best moving company. Investing in a moving broker might be the best route if you have several valuable items. Special care should be paid to these details when moving seniors. Any reputable mover will assist with moving insurance to protect you from any misfortunes.
Bottom line
It is worth keeping in mind that there are many things we do not account for when moving. This is especially the case for long-distance moving. If you were to move a pool table or when you are needing a hot tub move, you will need some experts to help you with that. In fact, Moving with pets, fine art moving, moving with plants, or moving bulky items. Moving with piano, for example, require specialized services. Unfortunately, many unexpected moving expenses are as a result of these (often overlooked) factors. Moving with kids in itself makes things a little trickier – so be sure to pay some attention to your plan of action when moving with kids.