Date: 04/26/2020
Reading time: 9 minutes
Share on
If you're thinking about moving anytime soon, then you've probably realized just how many logistics you have to worry about! If you have lots of heavy furniture, then you may be wondering just how you're going to be able to get it out of your current home and into your new place without ruining it.
Fortunately, there are lots of professional movers who are able to do the impossible without breaking your furniture or damaging your home. Let's talk about the benefits of hiring professional pool table movers to make your life a lot easier!
1. Why should you hire pool table movers?
First of all, let's talk about what a pool table is. If you have one in your home, you might simply think of it as a decorative piece of furniture that doubles as a fun game to bring people together. It might seem huge—solid—like a single piece of furniture.
In actuality, it's far more complex than that! Pool tables are made out of several pieces that fit together in extremely precise ways. While pool tables may seem like they are far from delicate, if you don't take care in moving them their inner workings may shift and crack the inner workings of your table.
Professional pool table movers have the specialized equipment necessary to move pool tables and put them together in your new place so that they aren't damaged at all. There are several other good reasons to invest in professional pool table movers, as well:
Professional pool table movers will often offer something called valuation, which is a specific type of insurance. Valuation simply means that if the professional pool table movers drop or damage your pool table during the move, they will hold themselves responsible for its loss or repair. If you do this on your own, you will be responsible.
Professional pool table movers will have the correctly sized vehicle for moving a pool table, along with all of the restraints and furniture protectants necessary to ensure that it will not shift during transit.
Professional pool table movers will be guaranteed able to transport any size, shape, or type of pool table. If they don't have the equipment on hand, they'll find it! If you try and DIY the move, you're stuck with using what you—or perhaps your friends or family—have on hand.
All in all, pool table movers will afford you certainty that your table will be taken care of as well as give you peace of mind that you don't have to worry about a thing. In the midst of all of the other projects you're handling during a major move, just being stress-free is worth the investment.
2. Choosing a pool table mover for you
As you're looking for a great pool table mover, one that you trust to move your valuable belongings appropriately, there are several tricks and tips you can employ to ensure that you're able to find a great pool table mover indeed! Here is our best advice:
If at all possible, it's a good idea to ensure that your pool table movers are specialized in a whole array of heavy lifting tasks—not only pool tables, but pianos, hot tubs, and kitchen appliances. Not only will this prove that they have redundant equipment to handle the bulk of your pool table several times over if need be, but it will mean that you have to hire fewer specialized movers—saving you money.
Read the company's reviews before you sign anything. Reviews are the best way to learn about how a company treats its customers; they're literally testimonials from people who have stood in your shoes, and you can use them to tell the future of your experience. All of the best moving companies will have good reviews. If you can, contact people who have worked with them, as well, for more information.
Ensure that the pool table movers you're planning on working with have the appropriate licenses for their city and state. This will show their commitment as a company and will also protect you in the case of any disputes down the line.
Do a little bit of digging into the past appointments that the pool table movers you're considering have booked. Were there any odd cancellations—on either side? Were there reasons given? Especially if the cancellation history shows that the pool table movers have an established pattern of bailing on customers last minute, you'll want at the very least an explanation from your pool table movers before you consider a contract.
Moving insurance may seem like a frivolous expenditure during an already expensive time. However, if you find yourself in unexpected and unfortunate circumstances, you'll be glad you invested in a mover who was prepared to cover you in the worst of times. Ask the pool table movers you're considering what types of moving insurance or valuation they will offer you. It won't be a question you'll regret asking.
It's never a bad idea to ask what discounts your prospective pool table moving company offers for its customers. Even if you aren't a senior, for example, knowing the company's policy towards the elderly is information you can pass on to others; and knowing the benefits the moving company is prepared to offer the community helps you flesh out your internal profile of the company. Ultimately, anything the company does to offset moving costs is key!
Finally, ask questions of your moving company. After you've done your research, you should be curious as to how the moving company stacks up to the competition! Ask them about specific brands and models of pool tables they've moved, and the lengths to which they go to protect the tables and satisfy their customers. If the answers they give do not satisfy you, it may be worth walking away.
3. How much does it cost to move a pool table?
There are many factors which go into determining the cost of moving a pool table—typically, anything which might make the job more difficult will increase the expense. Among the factors generally taken into account are: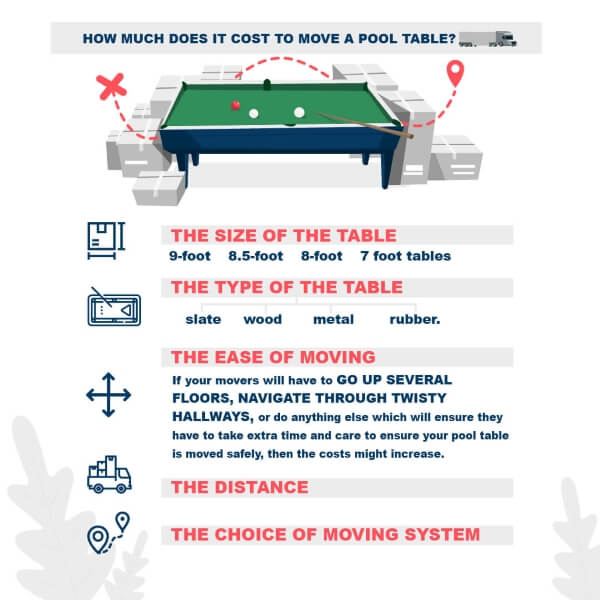 The size of the table: The most typical pool table sizes are 9-foot, 8.5-foot, 8-foot, or 7 foot tables. This refers to the length of the longest size. All pool tables are rectangular, and their longest side is twice the size of the shorter side.
The type of the table: Pool tables can also be categorized by what they're made of. Common materials that go into pool tables are slate, wood, metal and rubber. The more fragile and luxe the material, the more expensive the moving service will likely be, as the pool table movers will need to take more care to ensure the table is well cared-for.
The ease of moving: If your movers will have to go up several floors, navigate through twisty hallways, or do anything else which will ensure they have to take extra time and care to ensure your pool table is moved safely, then the costs might increase. Consult the moving cost estimate they give you for their ease-to-cost approximation.
The distance: Generally speaking, the further the move, the more expensive the move will be. This is the same for pool table moving! Long distance movers will give you discounts where they can, but if they're going a long way, there's no getting around that.
The choice of moving system: The last factor that will influence how costly your pool table relocation will be whether you choose to work with movers or brokers. There are pros and cons with each, so do your homework and weigh your options carefully—you never know which will actually be cheaper before you check!
4. DIY pool table moving: all you need to know
If you don't feel that hiring pool table movers is within your budget, that's okay! We'll lay out all of the steps necessary for moving your pool table safely in this handy guide. Before you start, you'll want to make sure you have a lot of time (an undisturbed weekend or afternoon), and enough muscle power to get the job done!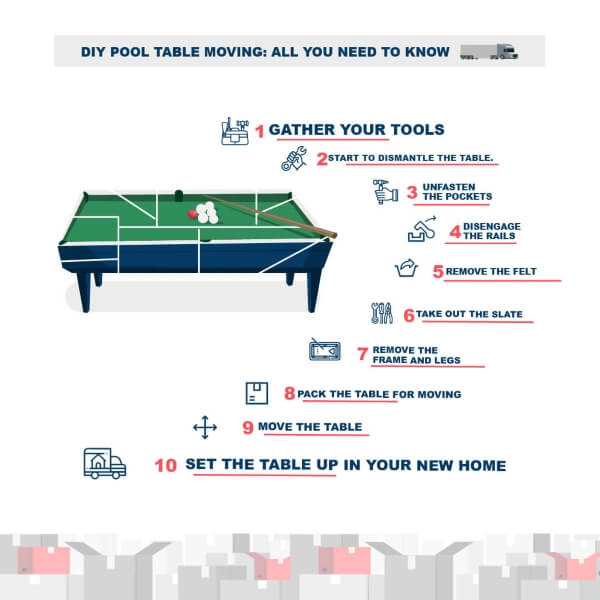 Gather your tools. You'll need needle nose pliers, a staple remover, flat head screwdrivers, a socket wrench, a carpenter's level, a power drill, safety goggles, plastic sealable bags, blankets, tape, and bubble wrap.
Start to dismantle the table. If you still have the manufacturer's book of directions, now's a good time to bring that out—it'll help with your specific make and model of pool table.
Unfasten the Pockets: Your pool table has six pockets: start the dismantling process by removing them. Depending upon your model of pool table, they can be stapled in or screwed in, so take your staple remover or screwdriver and carefully unfasten each pocket. Put the screws in plastic bags, labelled; you can dispose of the staples, carefully, if applicable.
Pro tip: Wear protective goggles starting now, because—especially if you're removing screws! — there might be flying bits of metal in the air, which could be painful and damaging if they end up in your eyes.
Disengage the Rails: Next, turn your attention to the rails lining the side of the pool table. They are likely bolted down securely, so you'll need a socket wrench to safely remove them. Take your socket wrench and carefully unbolt the rails, then slide the rail out gently in as straight a line as possible. You'll likely need the help of your friends to do so!
Put the rail, once removed, on a moving blanket or other soft, secure and clean surface. Again, there will likely be small fasteners—nuts, bolts, screws—so remember to put them in small bags and label each one. This may seem like a tedious process, but you'll thank yourself when you're putting the table back together!
Remove the Felt: The green part of your pool table is referred to as 'the felt', and it's now time for you to remove it carefully. Be ready before you begin, as this is likely the step that will take the longest amount of time during your pool table dismantling process.
Take a moment to assess the state of your felt. If you find it thin and frayed in places, you might make the executive decision to simply replace the felt upon arrival. If this is your choice, then you can simply rip all the felt off the board, with no regard to keeping it nice or in one piece.
However, if you would rather not replace the felt once in your new home, use your staple remover to remove each staple, one by one, from around the lining of your felt before carefully peeling up the felt as gently as you can, inch by inch. Roll the felt as you go, and take frequent breaks to ensure that you have the stamina to do this slowly—after all, one careless tug or quick rip, and you'll be replacing the felt anyway!
Take Out the Slate: After you've taken up the felt, you'll be facing a large gray piece of stone. This is the heaviest and most expensive part of your pool table, so you want to proceed with utmost care. Remove the screws that adhere your slate to the rest of the pool table, and put those in labelled plastic bags.
Then, with all of your friends helping you, lift the stone off the table, and extremely carefully lay it on a moving blanket to be packaged and placed in your moving vehicle. Remember: even though the stone is very heavy, it is extremely brittle and will shatter if dropped, so move slowly and with care.
Remove the Frame and Legs: After your slate is removed, the rest of the table can be dismantled rather easily. The specific configuration of your table will be unique to your make and model, so just take care to label each piece with tape and keep the associated hardware labelled in plastic bags.
Pack the Table for Moving: Once your pool table is fully disassembled, wrap each piece up in bubble wrap and blankets. Label the outside of each package with masking tape so you'll know precisely what is what upon arrival.
Move the Table: With your helpers, pick up each piece and carry to the truck without bumping anything—particularly the slate—against walls or steps. In the moving truck, make sure that each piece is completely stationary in the vehicle so nothing will shift during transit.
Set the Table Up in Your New Home: Finally, upon arrival, it'll be your time to do everything in reverse! Carefully take each piece of the pool table and place it in the area of your house in which the pool table will be. Invite friends over to help, and re-assemble the table slowly and carefully!
5. The Top 7 Tips for Moving a Pool Table: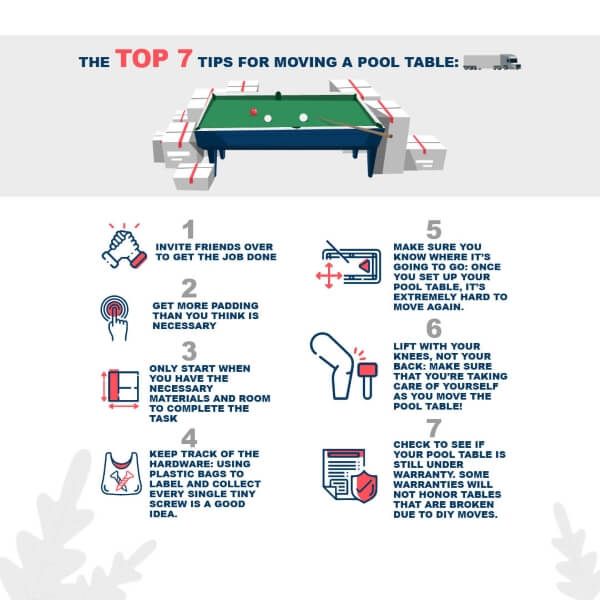 Invite friends over to get the job done: The slate in the middle of a pool table can weigh 800 pounds, so you'll need assistance at virtually every step of the process.
Only start when you have the necessary materials and room to complete the task, such as a truck big enough to move the table, and hallways cleared out for transport of the pool table to the truck.
Get more padding than you think is necessary: You'll want to over-cushion your table during transit! You'd rather be overcautious in this area, as the very last thing you want to see is a cracked pool table once you get to your new home.
Keep track of the hardware: Using plastic bags to label and collect every single tiny screw is a good idea. If you lose one, there's no assurance that you'll definitely be able to find an adequate replacement at your hardware store.
Make sure you know where it's going to go: Once you set up your pool table, it's extremely hard to move again. Make sure that you know where it's going in your new home and have that location cleared out and ready to go before you start the moving process, if at all possible.
Lift with your knees, not your back: Make sure that you're taking care of yourself as you move the pool table! You wouldn't want to pull a muscle or break something in the midst of your move, so take proper precautions and move carefully and slowly to protect yourself, as well as the pool table.
Check to see if your pool table is still under warranty. Some warranties will not honor tables that are broken due to DIY moves, so consider strongly whether you feel capable of doing this yourself—and being on the hook for any accidents—before you commit.
6. The Bottom Line:
Moving a pool table, like moving a piano or moving with large quantities of plants, is technically something you can do yourself, if you have a large truck for transportation, are very good with tools, and have several strong friends willing to give up a weekend to help you do it! If you don't have any of these resources, never fear—it's very easy and not prohibitively expensive to hire pool table movers to do it for you.
When you're looking to hire good pool table movers, start by doing your homework. Read the reviews of the company online, speak to past employees, and ask the pool table moving company you plan to hire lots of questions about discounts, valuations, and more. By doing so you'll be guaranteed to get the best rate you possibly can!