Date: 01/31/2020
Reading time: 5 minutes
Share on
There are 2 types of moving expenses – apparent or obvious and the potentially unforeseen ones. The obvious expenses, as the name suggests, are on-the-surface and given the due time and diligence, you can estimate these with ease.
Contents:
The most common price components
1. Time of the year
Most people try to relocate during a warm season, usually March through October. That's when about 85% of the household moves happen. Such demand is firstly due to the warm weather that makes the overall labor easier and driving a moving truck safer. There's no snow and fewer rains. And second of all, it's the school. If a family decides to move, their kids' summer vacation would be the best time.
The Covid-19 strongly affected when people move. Thus, the 2 winters of 2019 and 2021 have been overwhelmingly busy. To be safe, try to find a mover 2-3 months in advance and secure your move.
An off-season move will cost you up to 40% less. So, if you have a privilege of choice, plan your move for Winter.
2. Route
The big Cites are packed with businesses and services, including the moving companies. Hence, if you reside in one of the major cities or suburbs, you'll find a mover in no time. Moreover, you'll be flooded with offers of free visual moving estimates, discounts, free packing materials, you name it.
However, if you live in a rural area, difficulties may occur. For example, if you're trying to move from Montana to Florida, or move from California to Texas, you will encounter a lack of professional long distance movers near you. You will still find a mover eventually, yet, these movers will most likely need to travel a few hours before they get to you and start loading your furniture. It goes without saying, that you pay for those extra travel hours. Sometimes, it's easier to hire to moving broker if you live in a remote area. They will definitely arrange for your move, but you need to be cautious as many moving brokers receive tons of dismal reviews.
An average 3-bedroom move from an unpopular route – Bozeman, MT to Miami, FL – will cost $12000, whereas, traveling the same distance, a same-sized move from Las Vegas, NV to Miami, FL will cost $8000.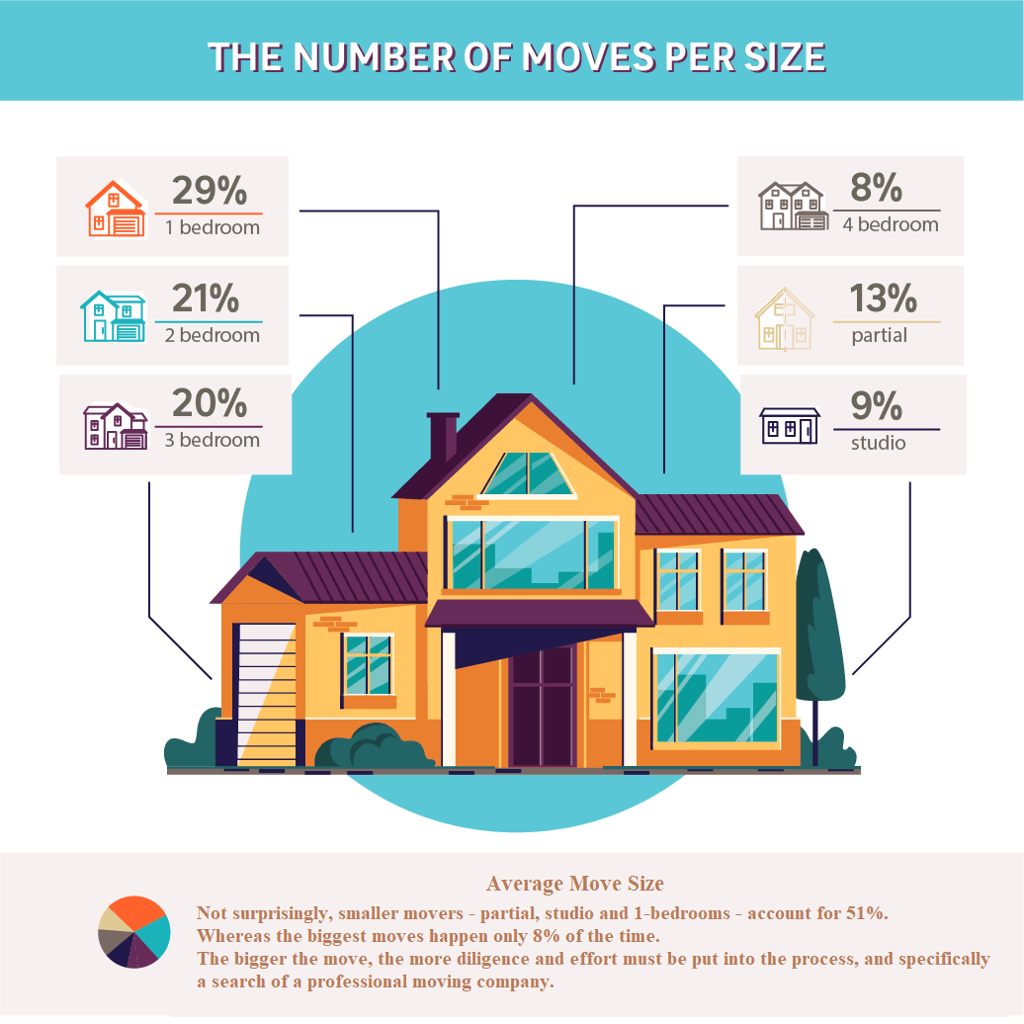 3. Move Size
The amount of furniture directly correlates with the price. Local moving companies charge per mover, per hour. 2 movers and a truck will cost $125 per hour on average. An average 2-bedroom local move (up to 100 miles) will take 6-10 hours to complete and will cost $750-$1250.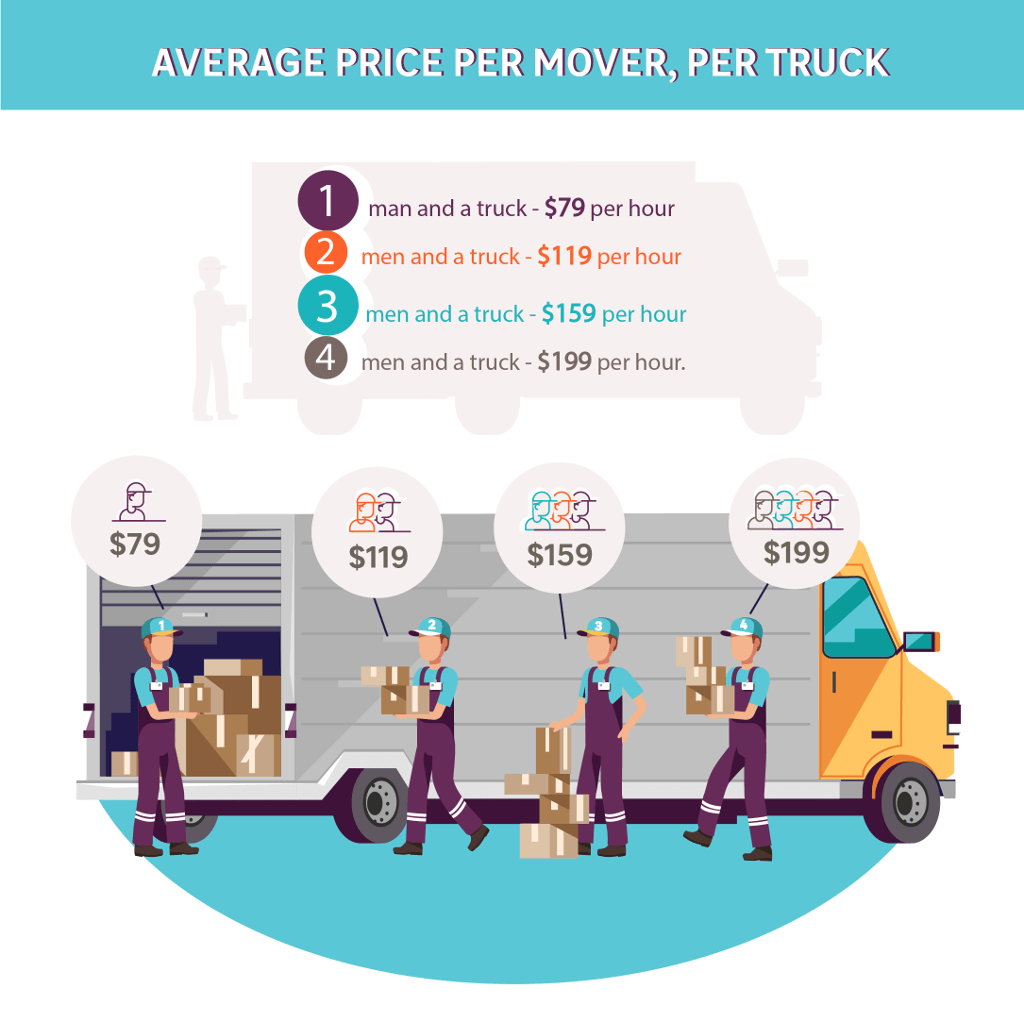 Average price per mover, per truck:
1 man and a truck – $79 per hour
2 men and a truck – $119 per hour
3 men and a truck – $159 per hour
4 men and a truck – $199 per hour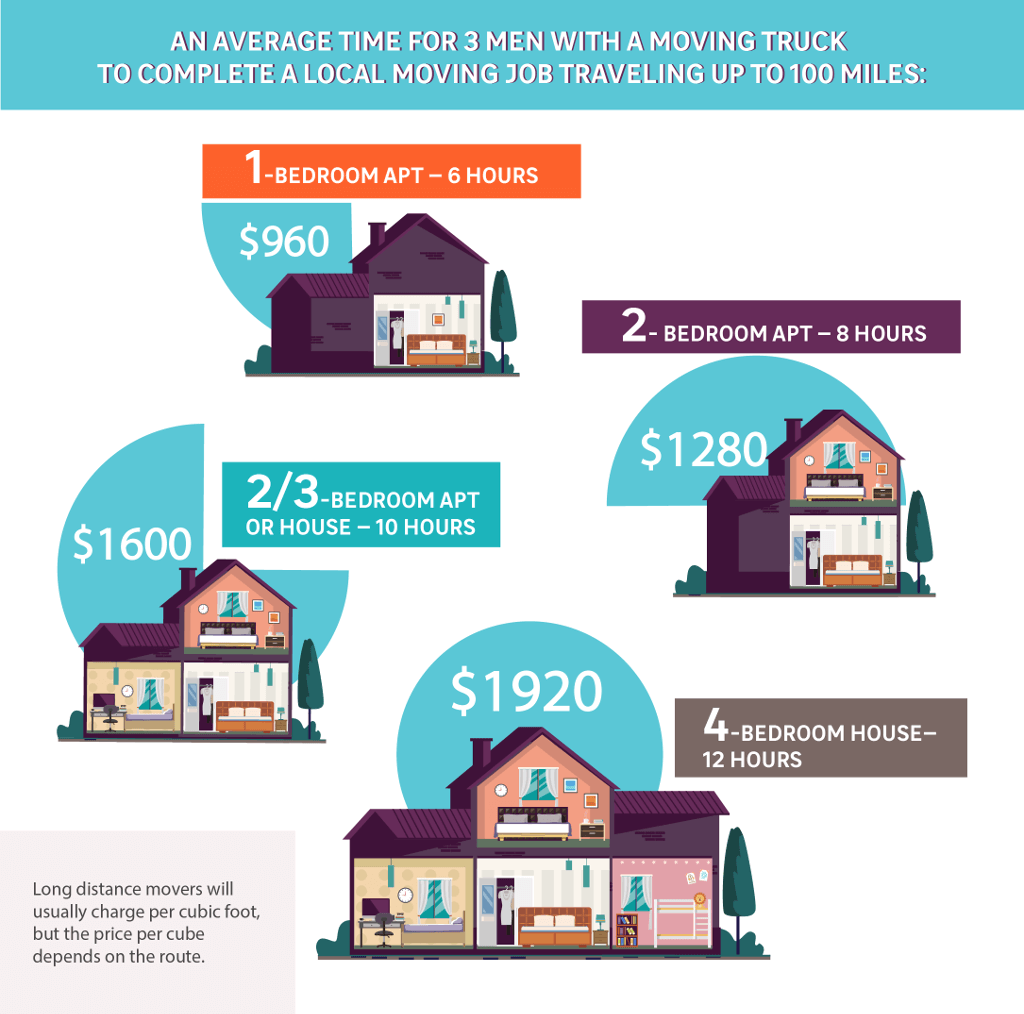 An average time for 3 men with a moving truck to complete a local moving job traveling up to 100 miles:
Studio – 4 hours – $640
1-bedroom apt – 6 hours – $960
2- bedroom apt – 8 hours – $1280
2/3-bedroom apt or house – 10 hours – $1600
4-bedroom house – 12 hours – $1920
Long distance movers will usually charge per cubic foot, but the price per cube depends on the route.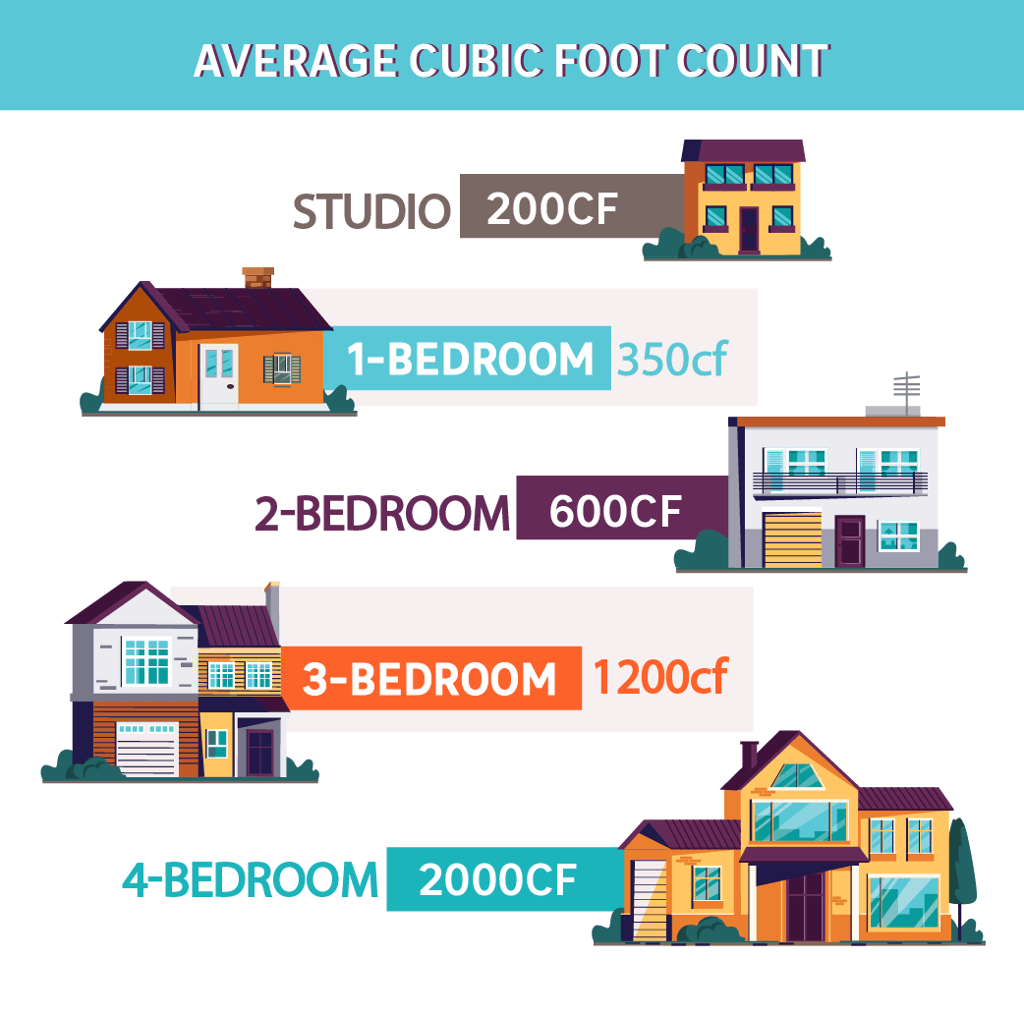 Average cubic foot count:
Studio – 200cf
1-bedroom – 350cf
2-bedroom – 600cf
3-bedroom – 1200cf
4-bedroom – 2000cf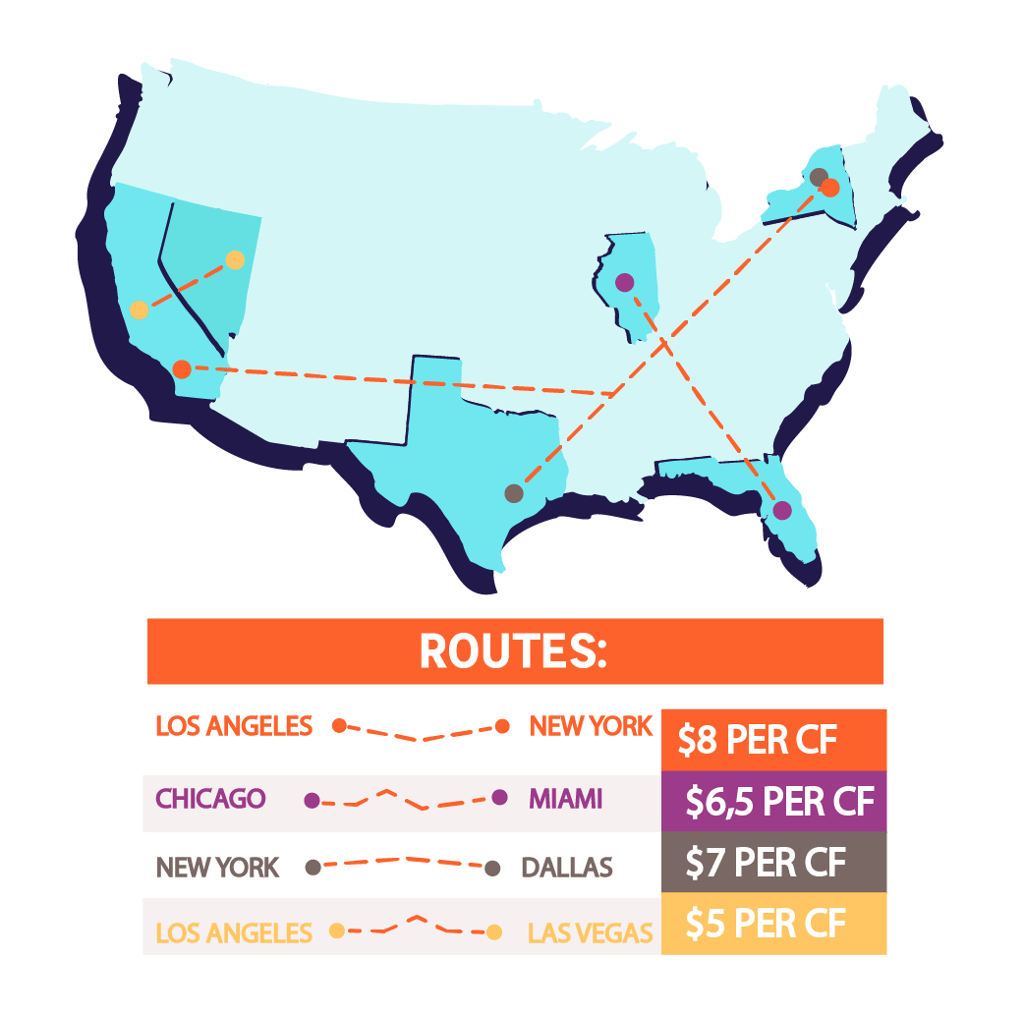 Routes:
Los Angeles, CA to New York, NY – $8 per cf
Chicago, IL to Miami, FL – $6.5 per cf
New York, NY to Dallas, TX – $7 per cf
Los Angeles, CA to Las Vegas, NV – $5 per cf
Feel free to use our moving cost calculator to get a rough idea of how much your move will cost.
4. Packing and Handling
Usually, a customer is left with a choice on whether to let the movers pack the household or do the job themselves and save $300-$600. Saving some cash always sounds good, but you need to consider that moving insurance most likely won't cover the items you packed on your own. Besides, without a proper packing experience, the risk of damaging your precious belongings increases.
---
All the above mentioned directly correlates with the moving prices. However, there are a few additional moving costs that people rarely expect.
Additional Moving Expenses
The Long Carry.
Whenever a moving truck cannot access the pick up or delivery site, a customer will need to pay $100 on every 75 extra feet that movers will need to carry the furniture. This may add up to $200-$300 upon delivery or pickup if the customers didn't warn the movers and didn't have this mentioned in the contract.

Stairs.
Only the first 2 flights of stairs are free. If you live on the 2-nd floor or above, make sure the service elevator is working, or you will need to pay on average $50 for each additional flight of stairs.

Shuttle.
Whenever there is no access for an 18-wheeler moving truck and the long-carry is too unreasonably long, movers may need to rent a smaller u-haul truck and reload your furniture into a smaller moving truck first, which can reach the otherwise unapproachable residences. Shuttle services cost at least $600.

Travel and Food.
Eventually, you'll have to get to your new place. Chances are, you will need a plane ticket. Then, at a new place, you may have to wait in an empty apartment for a few days for the movers to arrive. You'll need to get some food too. These expenses may seem unimportant, but for a long distance move they add up significantly.

Auto Transport.
When moving long distance, you may need to arrange for a car transport. An average price to transport a vehicle in the USA is $950 on a 1000-mile trip. And some families own more than 1 car.

Moving Insurance.
If you're moving the family heirlooms, you may want to consider buying an extra moving insurance. Full value protection will cost 1% of your total furniture valuation.
E.g. if your belongings' worth is $45 000, you'll pay $450 for the full value protection, which is considerably fair.

Storage.
The first 30 days of storage are free. The additional 30 days will cost at least $225.

Bulky items.
Hot tub, treadmill, piano, pool table, heavy kitchen appliances. These need to be discussed directly with a moving company. Sometimes these may be moved at no additional cost.

Art.
Fine art moving usually comes with extra packing and handling. If you care about the well-being of your collection, you need to hire professional fine art movers.

Tips.
How much to tip movers is a common question. Tip movers only if you wish to do so – a good tip would be 3% of the total move price at pick-up and delivery. E.g. if the total move price was $3000, you can tip the crew $90 at pick-up and another $90 for the crew who delivers your belongings. You are always welcome to tip extra. Moving is a very exhausting and stressful job and good tips are much appreciated.
Ask your mover what insurance plans they offer. What is covered, what isn't and what is the compensation for the damages.
Cut Moving Expenses
Give away.
Throw a garage sale, post on Craigslist or simply donate all the unnecessary items and claim tax deduction. It's often cheaper to buy new things at destination and start fresh.

Pack yourself.
Use your own boxes, blankets, rags, tape. Put smaller items inside of the bigger ones to save boxes.

Move Yourself.
If you're young and strong and have a few friends who can help your load/unload, you can rent a truck and do the move on your own.

Compare Moving Quotes.
Make sure to get at least 4 moving estimates. Never go with the highest or the lowest price.

PODs.
Portable moving containers are a sound solution to those willing to load, but not drive. Simply load your furniture and have the moving company transport the container to your new home.
Bottom line
There is no denying, that moving is baffling and to some may seem unmanageable and overwhelming. To some extend it is, but you need to remember, that a successful move is always backed by a lot of work – preparation, search for the mover, proper minor planning. Start looking in advance, research your options, read the contract very closely and always ask your movers many-many questions.
We, at mymovingestimates.com, wish you a happy and safe relocation and congratulations on your new amazing chapter that awaits ahead!