Date: 05/23/2020
Reading time: 11 minutes
Share on
If you're starting the process of your large- or small- scale business relocation, you might have already gotten overwhelmed by just how much there is to do! From the packing up of modular storage to making sure that all of your delicate computer and electronic infrastructure is moved safely, there are hundreds of logistics to keep in mind with your office or commercial move.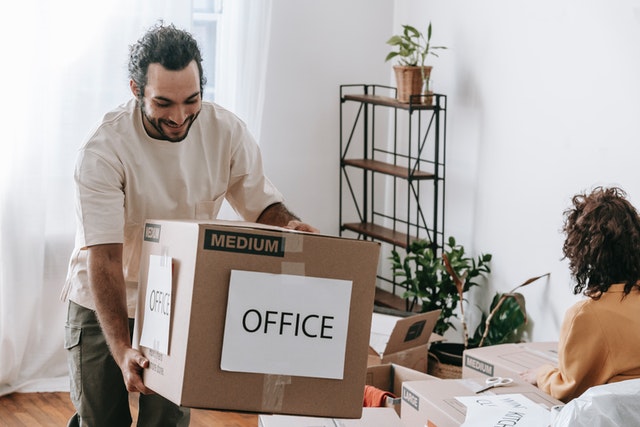 Contents:
In today's marketplace, offices are moving constantly. Whether you're upsizing to a new office or warehouse to meet a greater demand or downsizing to a smaller facility because most of your staff has gone remote to support greater e-commerce purchasing, being ready for a large office, corporate or commercial move is always a good idea.
There are some things you can do to prepare early. For example, investing in modular furniture which can be moved and packed easily and keeping your paperwork secure in portable, safe cabinets will help a lot! However, when it comes time to physically pack up your office and move, it'll likely be time to call in the pros.
Office moving professionals have all of the equipment as well as resources, tools, and trained teams on staff to get everything done that you need to do! It's entirely possible to think that you'll be able to sit back and relax while your office is moved with minimal downtime so you can be back in business before you know it.
To make your job much easier, we're going to go through all of the information you'll need to know about office movers and commercial moving companies, from what they do to exactly how much the typical office move costs. Everything you need to know is in this handy guide!
Commercial Moving Services
What, exactly, is it that commercial moving services do? In the cases of many other types of moving services, you might be able to DIY the move. However, when you're working with a business relocation, it's more normal to hire out moving services, as office furniture and equipment can be very fragile, expensive, or bulky. Even the smallest offices usually have more furniture than a simple truck can accommodate!
Because of this, commercial moving services usually have teams and tools with the specialized purpose of moving bulky office equipment—as well as the large, protective trucks required to get the job done.
Here are precisely the things which commercial moving services offer that you're going to want to see with any movers you end up hiring:
Moving Office Equipment: From dollies to ramps, furniture protection, blankets, and more, the moving office equipment that your office moving company has needs to be able to do the job. Make sure to ask any prospective companies about how they move bulky and fragile things with their moving office equipment.
Furniture Moving and Installation: From bulky items like modular office furniture, fine art moving such as diplomas and other certifications that your office might have obtained, and even corporate hot tubs or pool tables that you use for networking and relaxation: your office moving company needs to be able to handle it all! Go through your office and make a list of everything that's on the bigger side, such as large, fragile equipment or even pianos and other large musical instruments. Give that list to prospective moving companies and have them explain to you how all of these will be cared for.
Corporate Moving Services: If you have staff that you'll need to relocate as a part of your moving process, make sure to tell the moving company. They may be able to help you put together an employee moving plan at a discount to you.
Warehousing and Storage: For large amounts of inventory that you'll need to move or store during your move, you'll need warehousing and storage to take care of it! Many of the larger office moving companies are partnered with warehouse facilities. Ask about what your prospective companies can offer you as a part of your deal.
Packing Services: After your employees have removed their personal items, there are likely still going to be significant amounts of things (large and small) that will need to be packed prior to your move. Ask your prospective moving company what they're able to offer you in terms of packing assistance.
Local Moves: Any of the local moving companies you work with will likely be able to handle local moves. Ask specifically about the timelines they can offer you as well as the price for moves that might not take very long, as they are nearby.
Long-Distance Moves: If you need help relocating your business a long way, rely on the best long distance moving companies to do the job! It can be easy to see long-distance moves as more stressful, but they contain the exact same components as a local move; the transit time will just be a little longer.
The Cost of Office Moves
When you're moving an entire office, you might expect the up-front cost to be a little high! However, there are things you can do to mitigate the amount that it will cost you. When you first approach different commercial or office movers about your business relocation, make sure to ask for moving cost estimates so you can compare the putative expenses across companies.
After that, go through every line item on an office moving estimate with a fine-toothed comb. You'll want to make sure that you're not getting charged for anything you won't use! However, there is one line item that you'll want to see on an estimate: moving insurance. Moving insurance can make sure that any accidents which happen along the way don't end up affecting your bottom line!
When you're assessing just how much your moving costs are going to be, consider the estimates, the insurance, and every single thing for which you will be charged. This may take longer for you to go through, but you'll be glad you completed this homework in the long run!
7 Tips How to Plan and Organize an Office or Business Move
Whether you're moving a sort distance or a long distance, you'll want to get started planning early on so that you're able to get everything done! A good move starts months in advance, with a top-tier plan so you can get everything in place. Next, we'll talk about our 7 most successful tips to make sure that you're able to handle your office relocation with ease.
Start by figuring out your new address, and scheduling a mail forwarding period via the USPS. Typically, a few months in advance, they'll be able to give you a date on which they'll start forwarding your mail. Scheduling this to match the date of your move is a good idea.
Tell your employees as soon as possible after the move is definite. They will need time to make decisions about their job status as well as make plans for their moves, if applicable.
Downsize. Anything that is not necessary in your office, get rid of it so you don't have to bring it with you.
Schedule a lighter workflow during the month of your move so you aren't slammed with real work just as you're trying to move.
Hiring an extra manager or a moving manager for the month of your move would not be a bad idea either, just to have another clear head in the process.
Have an IT team come to your new building before the move to make sure that all cables and outlets are in place.
Schedule a pizza delivery service to come and cater food for your employees and movers the first few days after the move. Taking one less thing off your mind and adding to company morale is a good idea during a state of tumultuous change.
Top 10 Tips for Handling an Office Move with Success
If you're looking to cut to the chase and get your office move handled in the most successful way possible, great! We've gone over most of the nuts and bolts of how to complete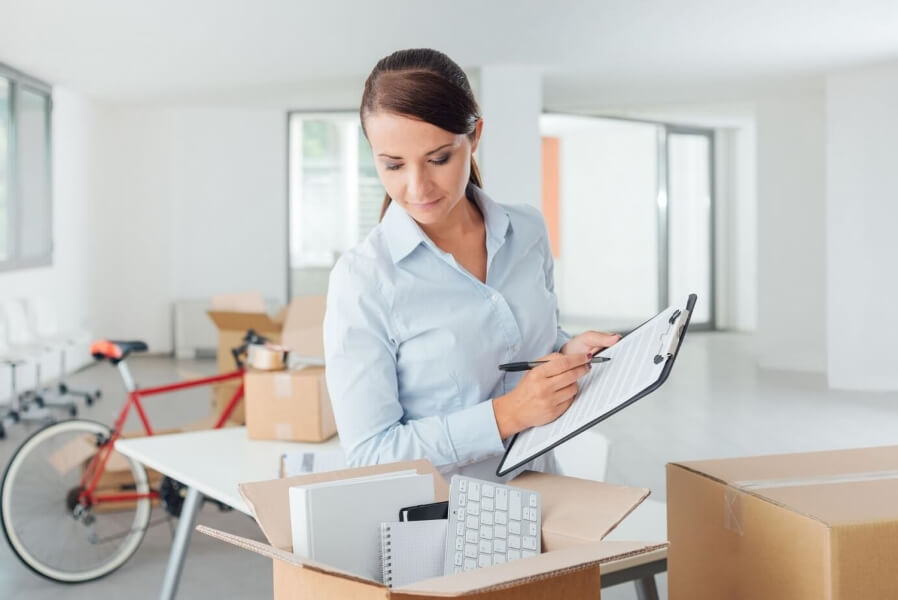 commercial moves. Now, we're going to give you the top ten secret tricks of the trade as to how best to handle an office move. These are the things that might not seem obvious, but if you do them all, your office move will be a breeze.
Prepare three to six months in advance. We know that it's not always the case that you get several months' notice before a move, but if at all possible you should organize the move with as much advance notice as you can! That way, you can spend leisurely, considered time examining all of your office equipment, making sure that you know what needs to be taken with you (and what can be left behind!), and making sure that you have a great new office to move into.
If you have your new office picked out, those early months are a good time to go in and measure every square inch of your new place. If you're downsizing, make sure to pick any office furniture or office equipment that you won't be needing and sell or donate it early on. The more you can get out of your way, the less you need to focus upon, the better!
Make sure that you've discussed the move in advance with your IT team. All of your employees need to know about the move, of course, but your IT crew will be integral in making sure that the move is done properly. After all, once you're in your new office, Internet will likely be one of the first things that you need to get up and running again! It's important to note as well that the equipment that the IT professionals most frequently use is among the most fragile and expensive equipment that you likely own as a company. Therefore, making sure that the IT crowd knows as far in advance as possible so they can begin preparations of their own is key.
On a similar note, make sure to have all of your employees clear out their desks entirely. In a large move, every square inch and every pound of things relocated counts, and if you find out that you're moving your employee's personal effects, that could set you up for (at the very least) some stressful conversations after you've completed your move; and, at the worst, could complicate the logistics of your already-stressful situation!
Check and double-check that the moving company that you hire has excellent moving insurance. Most office buildings and companies require it, but you never know quite who's trying to fly under the radar! To make sure that you're not going to fall victim to a scam, just take a moment to ask your moving company to send you all of the related paperwork. A faxed copy would be best, but scanned would also work. Hopefully you won't have to use it, but you may be asked at several points along the way to provide it (for your new rental agreement, or to help successfully get your deposit back on your old one) and certainly if anything untoward happens. If you've requested and received the moving insurance document early on and you know exactly where it is, that's one less thing to worry about if you happen upon an unfortunate event.
Check with both your old office building and your new office building well before the time you need to move if there are any logistical restrictions they usually place on moves. For example, in many office buildings, they don't allow moves during business hours out of courtesy for other businesses working within the same building, so you may be forced to wait until evenings or weekends to complete the move. Similarly, there may be restrictions on where a large moving truck can park; does your office building feature a loading dock of any kind? If so, locating it before hand and communicating that information clearly to the moving company is likely a good strategy.
Again, before the move has occurred, figure out which parts of your business stationery (from cards to envelopes to websites and social media accounts) will need to be updated, and when, in order to have the most seamless business relocation. After all, you wouldn't want to be stuck using outdated materials after the move and losing business or confusing customers! If possible, get some stationery made up with your new address and shipped over to your new location so that it will arrive before you do. Talk with your web designer and social media teams so they can make the update all at the same time. Anything otherwise, and you risk confusing customers just as you're trying to establish a market in a new area.
Even if you hire a full-service moving company, you're likely only contracting them for the weekend, or for the move itself. In order to make the move go smoothly, you will likely need some form of packing assistance for the week leading up to the move. What type of packing assistance you will need will depend upon the amount and fragility of the materials you'll be moving. If you're simply moving a typical office, consider ramping down the amount of work you'll be doing in the week before the move at least slightly and asking each employee to spend some of the time saved to pack up their own desks and another area. If you're moving lots of large, heavy, and delicate pieces (such as, for example, musical equipment), then you may need to request that the moving company you're working with set aside an extra day for packing assistance. When you're booking your moving company, make sure to describe what your needs are to them and book as directed.
Take some time before you move into your new space to walk over the entire new area with your new building manager, if appropriate and possible. You'll want to be able to test all of the outlets and ensure that there are no obvious problems such as interior damage, missing bulbs, leaks, or furniture currently in the space that will need to be moved prior to your being able to move into the space. While it may seem that this should be completed by others before you move, you know the adage: that it's always best to see it done yourself, if you want to make sure it's done right! If it's not an option to walk through the building yourself prior to the move, see if you can hop on a video call with your building manager, or at least request updated photos.
Check the temperature in your new location. Especially if it's going to be hot or cold, ask the building manager in advance if it will be possible to turn the air conditioning or heating on. This will lead to much more pleasant conditions for your movers (particularly if it's summer; sometimes, moving crew will have the choice to walk away from work if they deem the situation to be so hot as to be potentially unsafe). Having someone come in to open up the windows and check the HVAC prior to your move is also a great idea.
Before the move, pack up all of your wall trimmings, photographs, credentials and other framed art pieces in clearly marked and well-protected boxes, along with a hammer, nails, art-hanging kits and 3M strips (or anything else that you would like to use to properly hang such items). When you move into your new space, put this box somewhere safe, then don't open it up again until everything else that is larger and heavier (furniture, IT equipment, etc) has been put into its proper place. Then, once the move has had a chance to sink in, hang your art and credentials at that point (about a week later). Alternatively, you can hire an art consultant or hanger to help you place your frames on the wall. Scheduling that service about a week after your move is a good timeline.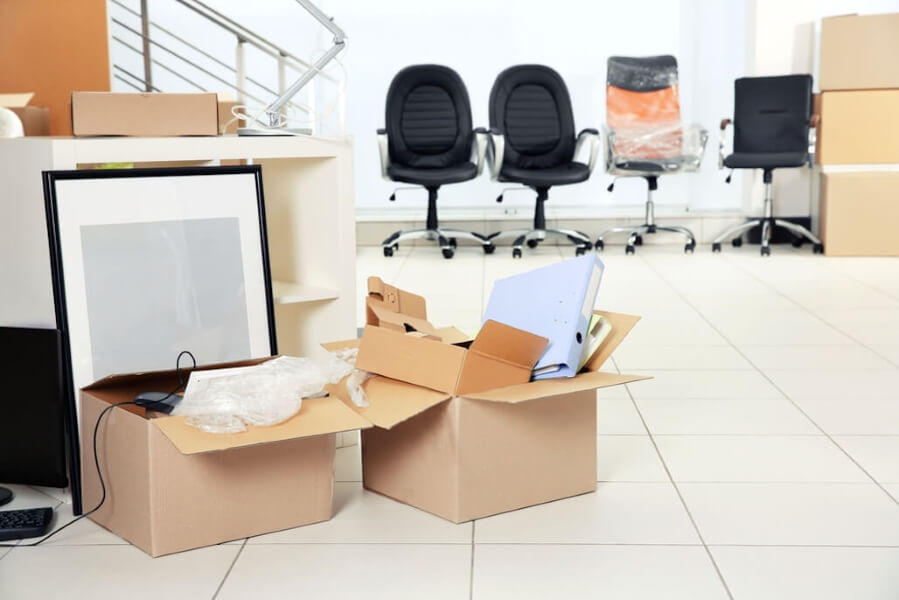 How to choose an office moving company
If you're all-in on making sure that you're able to work with a professional to get your move done instead of having to do it yourself, great! There are many great office moving companies that can help you make sure that your move is completed in a timely manner, without any sort of headaches on your part. However, you first have to do the difficult job of picking an office moving company! This in itself can be a difficult job, so make sure that you're ready to jump in before you start.
Your first task should simply be to search for the available moving companies in your area that will work with you in your current location and in your next location. Make sure to tell them where you're moving to; it's quite possible that each office moving company will have a range of service, and you want to make sure that you don't exceed that!
After that, look at the online profiles of each of these moving companies. You'll want to do a deep-dive on reviews, the amount of time they've been online, the quality of their website, and more! See if any other, outside sources have bestowed any credentials or awards on them.
A decision you'll have to make early on in the selection process is simply whether you'd like to hire movers or brokers to facilitate your move. You may stand likely to get similar service in either case, but there are differences you'll want to make sure you have a handle on. For example, the pricing structure might differ significantly between movers and brokers. Additionally, if you're looking to build a relationship and work directly with one company for your entire move, choosing a broker might not be the best choice.
However, there are pros and cons either way, and you need to make that choice for yourself! Doing your homework is a key step of the process. Reading reviews is a good place to start. You'll likely need to talk to people who have used the company before. Searching online or asking the moving company for a list of people they've helped in the past can tell the moving company that you mean business, and it can give you a first-hand opportunity to hear from people who have worked with them in the past.
One thing to think about is referrals. Feel free to ask past customers of the moving companies you're considering if they have any referral offers; that can save you money, and also help convince the moving company that you're worth taking care of!
One final consideration when selecting an office moving company is to think about the moving insurance that they may carry. Many office building managers require proof of moving insurance prior to rental, because there are many things that can go wrong with such a large-scale move. Talk to your prospective moving companies specifically about what they're able to offer you in terms of moving insurance, and compare policies across your different moving companies. Getting a competitive moving insurance policy (or a moving company which already has a good one) should be one of your priorities while selecting a good commercial or office moving company for your move.
The Bottom Line
If you're moving your office, whether it's a long way away or just around the corner, there are a lot of different things that you need to think about! Between secure paperwork distribution, the relocation of a lot of modular, heavy office furniture, and figuring out how to move all of your electronics safety, it wouldn't be odd if you were feeling frustrated or even scared of moving.
It doesn't have to be this way. Moving professionals have furniture protection, dollies, moving tools, and people who have trained for years to move electronics and more without any damage to the system. In addition, many of these moving professionals have moving insurance, which could help resolve any issues that might come up during your move. Especially with cross country movers, it's a good idea to make sure that you're in good hands!
When you get your move put together, your office or commercial moving company is going to be a key player in making sure your move is as hassle-free as possible. Make sure to do your homework when you're looking for your movers, and you should be all set for a stress-free experience!