Date: 06/22/2020
Reading time: 8 minutes
Share on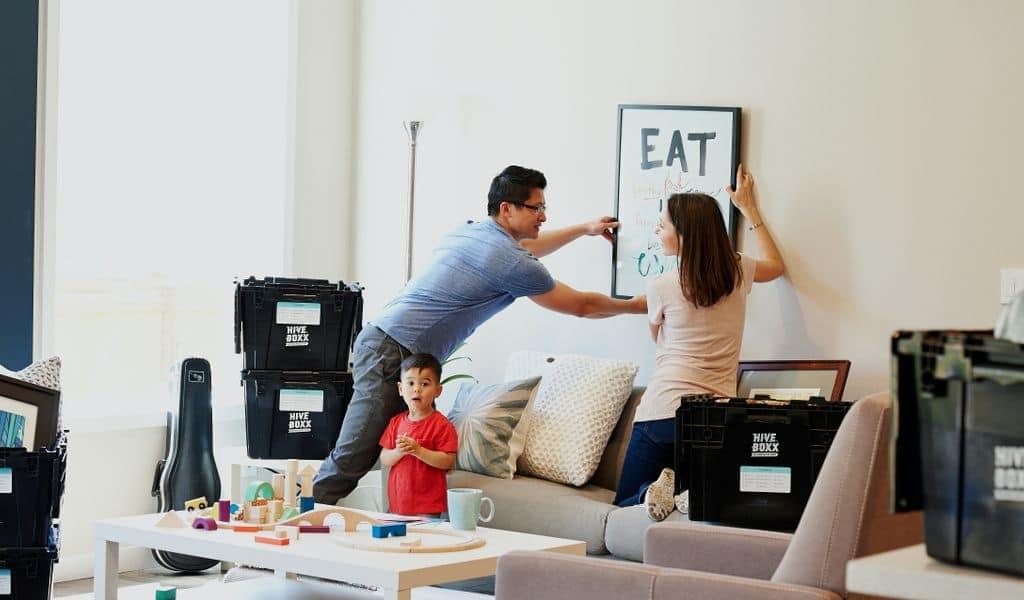 Contents:
Moving with kids can be hard…
It is time for the big move! And you have a million things on your to-do list! But it gets better. This time around you are moving with kids! Well, that just immensely increased the to-do list, didn't it? Moving, in general, is no easy task BUT moving with kids leaves with you a lot more to consider and so, your planning is fundamental. From moving cost estimates to making it a smooth journey for your kids, this guide is here to help you!
But it's not impossible!
Whether you are planning a long-distance move or just moving to a different suburb, this guide will give you valuable tips on moving with babies, toddlers, preschool children, and teens. Don't miss the handy checklists to ensure your move with kids remains nightmare-free!
Without a doubt, it is essential to choose the best long distance moving company. But when moving with kids, you need to consider the impact the move will have on your kids. Moving to a new city can be overwhelming for any person, so seeking sound advice on moving with children is an absolute must! This is where we come in!
'In with new and out with the old'
Although moving to a new city is an exciting time – it can be daunting for children. Leaving friends behind, changing schools, daily routines and more is not easy for all children to deal with. And so, they will require additional support, comfort, and communication during an event like a big move to a new city (or even a new suburb). One thing is certain; you will definitely need the services of a professional moving company to deal with the operations of your physical move while you make the transition as stress-free as possible for you and your family.
PROS & CONS: Moving with kids!
Preparing your kids for a move is probably the most important thing to remember. People (especially children) develop a strong attachment to their surroundings and what is familiar to them. Which is why children can find a move distressing. As relocating with kids is a challenging task, it is worth looking at the pros and cons of moving with kids.
Pros of Relocating Interstate with Kids

Professional movers – Although you might have to deal with the psychological wellbeing of your kids when moving, you do have fantastic services available to you. From packing and moving tospecialized services such as piano moving – professional movers are there to make your job a lot easier and hassle-free. This gives you the time to deal with what is most important to you.
Moving to a new city – The very reason you are moving to a new state is probably that it offers you better prospects. From better education to better surroundings, more facilities – it is worth remembering the reasons and rewards of the move you are about to make. Every parent would like their kids to have the very best education possible, moving to a new state might be the answer to that. It is worth checking out the top-rated schools in the city you are moving to. Your kids will also have the opportunity to explore new surroundings that might just help them ease into their new life without any hassle or fuss.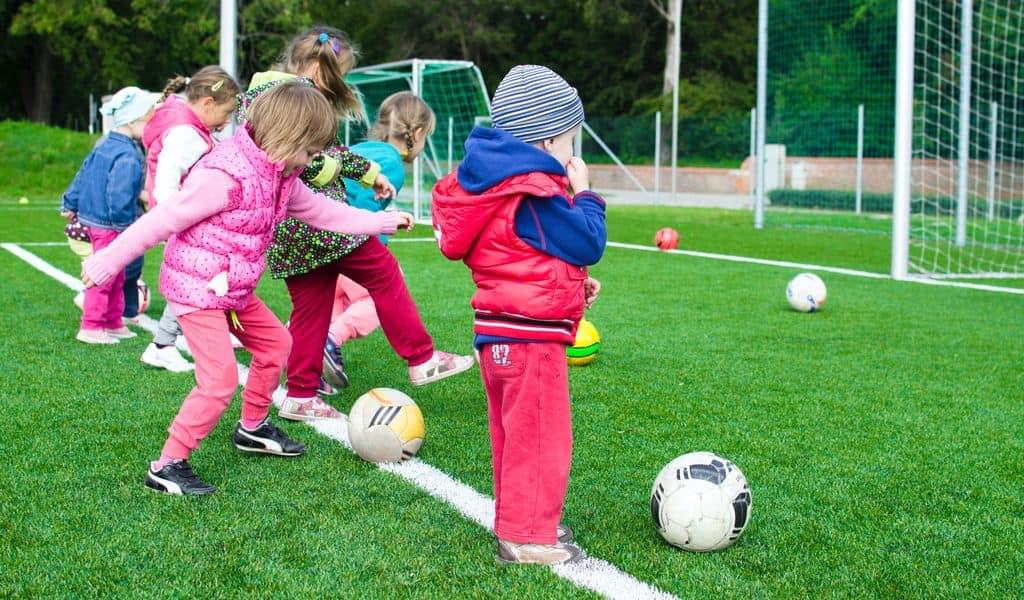 Cons of Relocating Interstate with Kids

Moving costs – Moving interstate can be quite costly! Because moving to a new state incurs extra costs like moving insurance (a highly recommended service, especially with interstate moving), long-distance moving expenses, and other relocation costs. Additionally, there are usually higher costs involved with changing schools, for example. You may find that the city you plan to move to is simply a little more expensive. However, don't let that worry you too much. A higher cost of living is associated with your greater earning potential, which is a pro, not a con!
Separation – Separation from friends and family is one of the biggest cons of moving. Especially for children. And generally, kids from different age groups will deal with the effects of moving, differently. The trick is to find a balance between maintaining contact with the old while exploring the new. This means you need to find new activities that might interest your kids before moving to a new city.
Other moving-related issues – It is important to keep in mind that there were will be an array of different issues when moving, especially in the event of moving to a new state. Your kids will experience class interruptions and will need time to adjust to their new surroundings. In fact, you will also need time to adjust. As mentioned, there will be moving costs involved, which are absolutely unavoidable. Not to mention a fair share of planning. Finding the right moving company for a long-distance move is what will make your journey of moving far easier! Another important aspect to consider is the weather! Yes, the weather. Some might have health concerns as moving to a new state might mean weather you are not accustomed to at all! Ensure you are up to date with the required vaccines and immunizations before relocating.
5 Moving advice for parents of preschool children!
The best advice here is probably to dial down the drama and make the move as smooth as possible. Although moving to a new state or suburb is stressful and requires careful planning and execution – it is supposed to be an exciting time! And it can be – we are going to tell you how. Here are 5 tips to help you deal with preschoolers when moving:
Get Them Ready – This can really not be overstated! Preparing your child (of any age) for the move well in advance is what will be the deciding factor in how easily they adapt to their new surroundings. For toddlers and preschoolers, it would be advisable to start the prep work a month in advance. This gives you plenty of time to calmly move through all the motions and facilitate a move that can even be memorable for your kids. Of course, this is completely dependent on your circumstances. When talking about the move, consider mentioning what will stay the same (ie personal belonging, favorite bedding, etc), as much as you talk about the changes that will come about.
Emotional Experience – It is safe to say that you can expect various emotions to surface during a move with kids. And it is important to allow your kids to experience these emotions in order to ultimately deal with the major shift in their reality. As children accept things entirely at their own pace – the only thing one can do to ease the situation is to allow them the time to do so.
Walking the walk – Tammy Gold, founder of Gold Parent Coaching said, "Your kids look to you for cues. So if you're positive, they'll have a sense that everything will be okay." This includes expressing emotions of excitement as much as sadness. As these are the emotions your kids will experience.
Routine Rules! – Luckily, one of the best ways to promote and facilitate the new change is maintaining old routines (dinner time, bedtime routine, and more) as far as possible. Katie Novick, a therapist in Massachusetts said, "Keeping up rituals like family meals or game night can build a sense of consistency that's reassuring." Reassurance will help your preschooler feel safe in his or her new environment.
Social Confidence – Children look at their parents for guidance. This goes almost without saying. And social confidence skills in kids are not an exception to this. Assist your child to soup up their social confidence, by doing so, they will likely develop relationships easier and quicker.
Tips for moving with teens!
Now, let's move onto teens! Moving with a teen can be nothing short of a culture shock! How do they deal with moving to a new city? And how can you help them make the move an exciting time in their lives? Let's have a look!
Firstly, stay calm! Preparing to move with your teen will allow you to work through all the necessary steps to ensure that everyone is happy at the end. Hence, preparation and planning ahead is crucial.
Moving to a new state? Learn as much as you can about the new state, especially pertaining to your teen's personal hobbies and interests. This allows you to have the ammo you need when you are constantly faced with the question, – "but what will I do there?"
If possible, schedule your move during the summer months. It allows for your teens to be out and about as opposed to cooped up in a house they might not yet be willing to accept.
Involve your teen in all the steps of the move. This not only makes them feel like they are part of the decision making but it might just help to make the move a special memory for the whole family. It might not be a bad idea to get them involved in the search for colleges in the new city. Having something to look forward to is a sure way for anyone to easier accept change.
Perhaps in particular difficult teen-moving scenarios, you can always book a future trip back before moving. In fact, your teen might see the move in a whole new light – an opportunity to travel!
Staying in touch with old friends and family will be important! Create a plan to maintain these relationships to allow the 'letting go process' to be easier on your teen.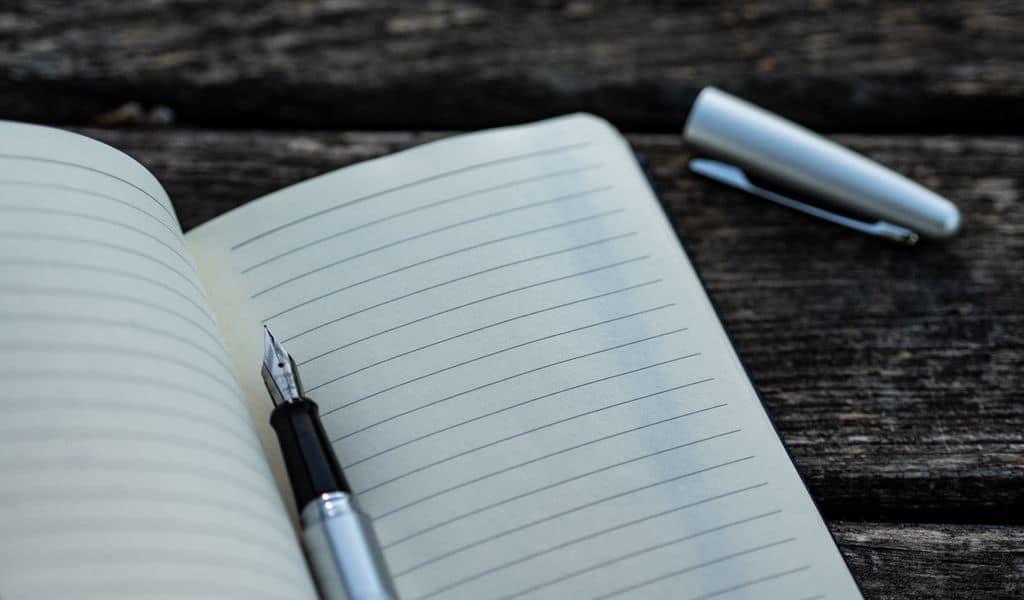 These checklists will make your life with kids much easier!
That's right! Checklists! You will need three, one for before the move, one on the day of the move and one after you have moved! Although moving companies make furniture moving a breeze! There are A LOT of other things to consider. These checklists are here to smooth out your life during a move!
We have conveniently divided these chores into 8 chores per week over 6 weeks. It is called the 8-point checklists! Moving just became a whole lot easier!
BEFORE Moving Checklist
Six weeks before moving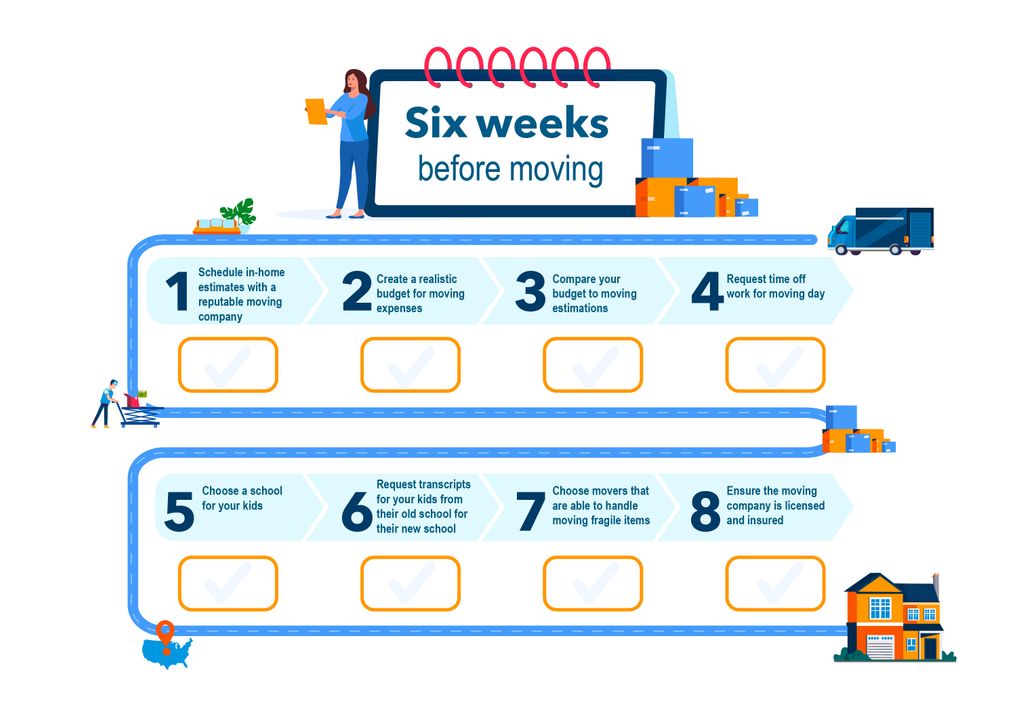 Schedule in-home estimates with a reputable moving company
Create a realistic budget for moving expenses
Compare your budget to moving estimations
Request time off work for moving day
Choose a school for your kids
Request transcripts for your kids from their old school for their new school
Choose movers that are able to handle moving fragile items
Ensure the moving company is licensed and insured
Four weeks before moving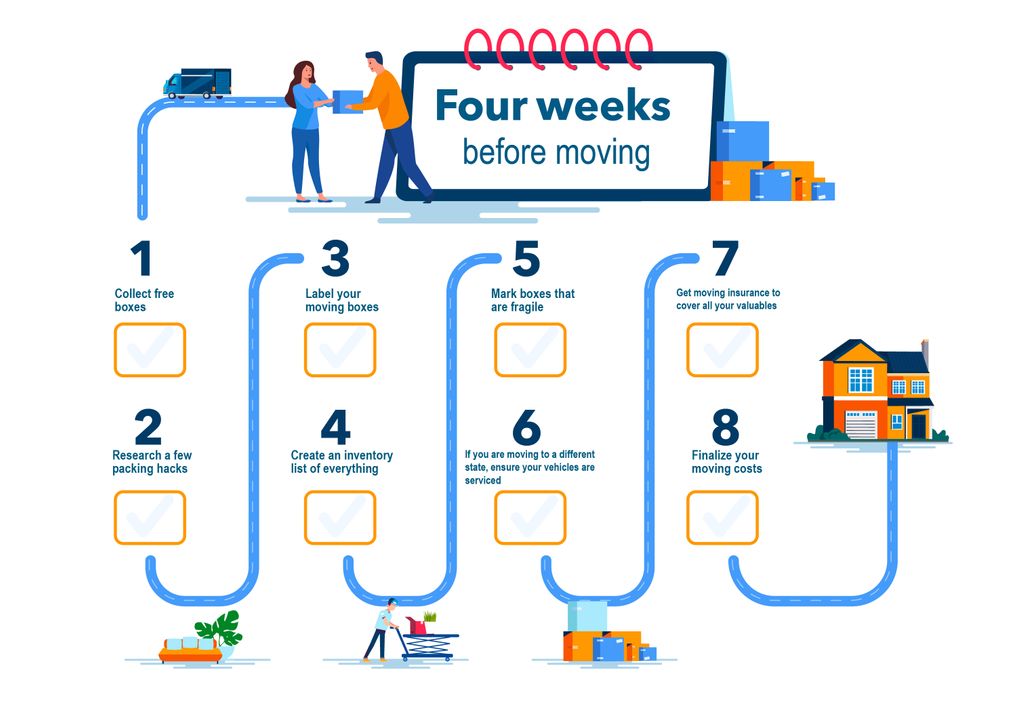 Collect free boxes
Research a few packing hacks
Label your moving boxes
Create an inventory list of everything
Mark boxes that are fragile
If you are moving to a different state, ensure your vehicles are serviced
Get moving insurance to cover all your valuables
Finalize your moving costs
Two weeks before moving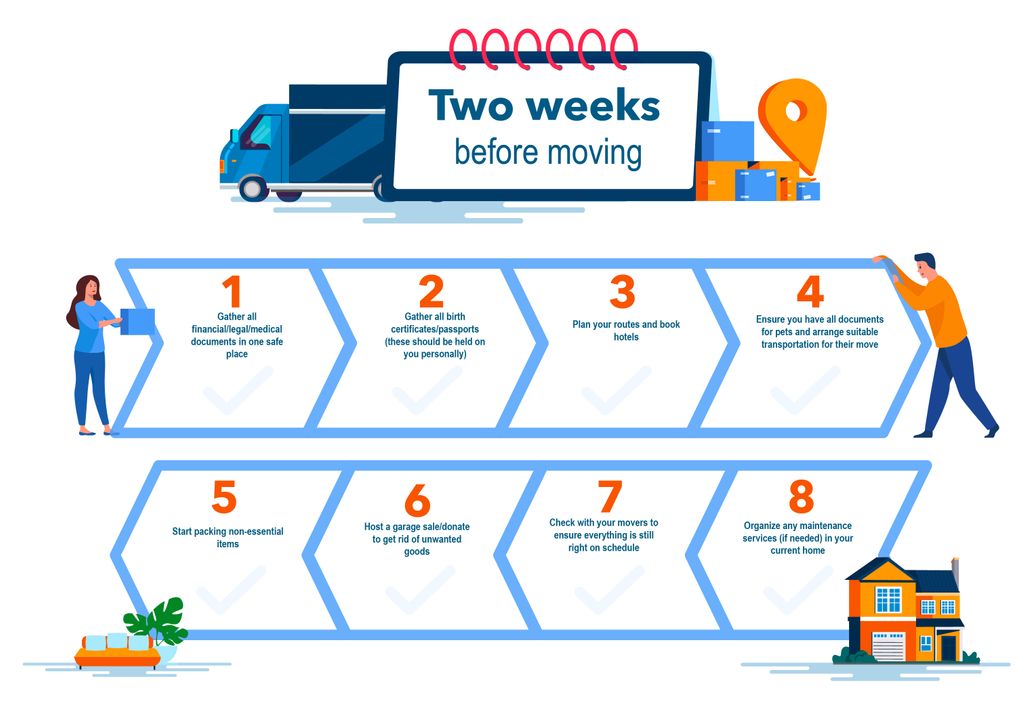 Gather all financial/legal/medical documents in one safe place
Gather all birth certificates/passports (these should be held on you personally)
Plan your routes and book hotels
Ensure you have all documents for pets and arrange suitable transportation for their move
Start packing non-essential items
Host a garage sale/donate to get rid of unwanted goods
Check with your movers to ensure everything is still right on schedule
Organize any maintenance services (if needed) in your current home
One week before moving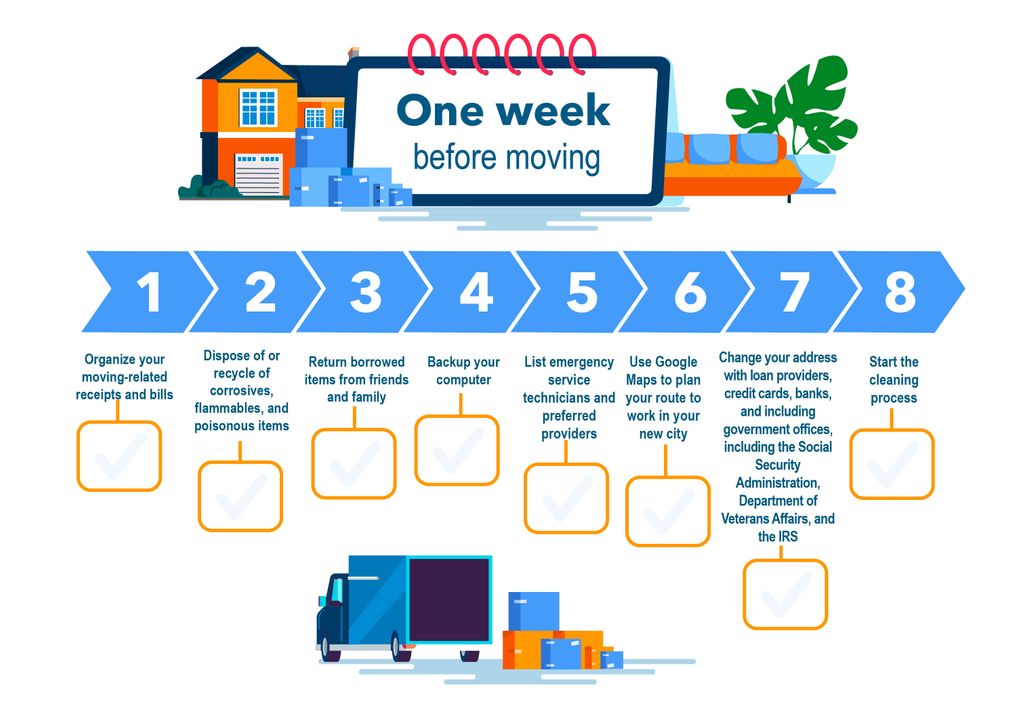 Organize your moving-related receipts and bills
Dispose of or recycle of corrosives, flammables, and poisonous items
Return borrowed items from friends and family
Backup your computer
List emergency service technicians and preferred providers
Use Google Maps to plan your route to work in your new city
Change your address with loan providers, credit cards, banks, and including government offices, including the Social Security Administration, Department of Veterans Affairs, and the IRS
Start the cleaning process
Moving Day Checklist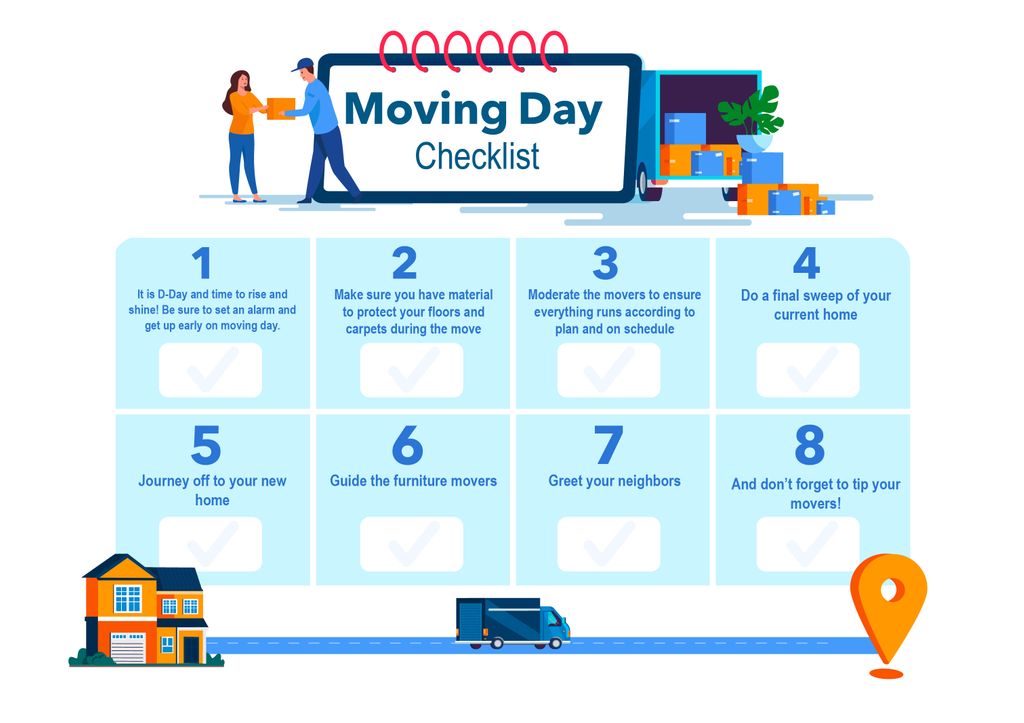 It is D-Day and time to rise and shine! Be sure to set an alarm and get up early on moving day.
Make sure you have material to protect your floors and carpets during the move
Moderate the movers to ensure everything runs according to plan and on schedule
Do a final sweep of your current home
Journey off to your new home
Guide the furniture movers
Greet your neighbors
And don't forget to tip your movers!
AFTER Moving Day Checklist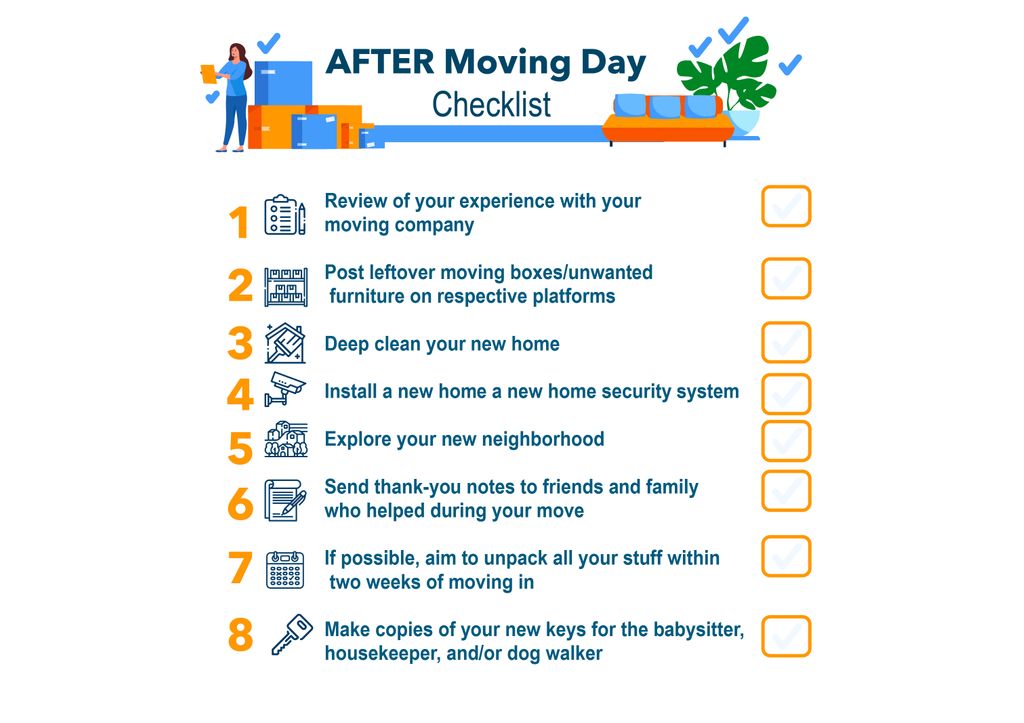 Review of your experience with your moving company
Post leftover moving boxes/unwanted furniture on respective platforms
Deep clean your new home
Install a new home security system
Explore your new neighborhood
Send thank-you notes to friends and family who helped during your move
If possible, aim to unpack all your stuff within two weeks of moving in
Make copies of your new keys for the babysitter, housekeeper, and/or dog walker
Moving with kids? Read these books!
Michele Borba, Ed.D., a Parents advisor and the author of The Big Book of Parenting Solutions – A book that answers all your parenting questions on kids aged 3 to 13. It is a practical guide that can help you and your toddler or tween cope with the challenges faced by the move.
Betsy Brown Braun, author of Just Tell Me What to Say: Sensible Tips and Scripts for Perplexed Parents– Written by a child development expert, this book will give you the insight you need to ensure you make the move and associated changes as easy as possible on your little ones.
An extra handy hint for the kiddies!
Check out these book titles to help your kid through the journey of moving to a new home!
Ages 3 to 5
Big Ernie's New Home, By Teresa and Whitney Martin
Louis + Bobo: We Are Moving, By Christiane Engle
The Berenstain Bears' Moving Day, By Stan and Jan Berenstain
Ages 6 and up
Maybe Yes, Maybe No, Maybe Maybe, By Susan Patron
Where I Live, By Eileen Spinelli
Now that you know everything there is to know about moving with kids – you are ready to embark on your mission. Moving is challenging! From moving plants to moving seniors or moving with pets – or moving in this case, with kids. Each requires careful planning and attention to detail, which is why it is so important to ensure you choose expert long-distance movers to make your move manageable and if possible, enjoyable!