Date: 04/29/2020
Reading time: 11 minutes
Share on
What do movers generally do?
When you're getting ready for an upcoming move, local or long-distance, it can be easy to get caught up in all of the little details (and big projects!) that accompany every relocation. Don't stress: you don't have to go it alone.
Movers are professionals who are well-versed in all the logistics surrounding moves—from skillful packing services, flexible storage options, furniture protection, shipping details, special-care moving and more, movers will be able to help you get from 'here' to 'there' with minimal frustration on your part.
Contents:
Usually the long distance move process looks something like this: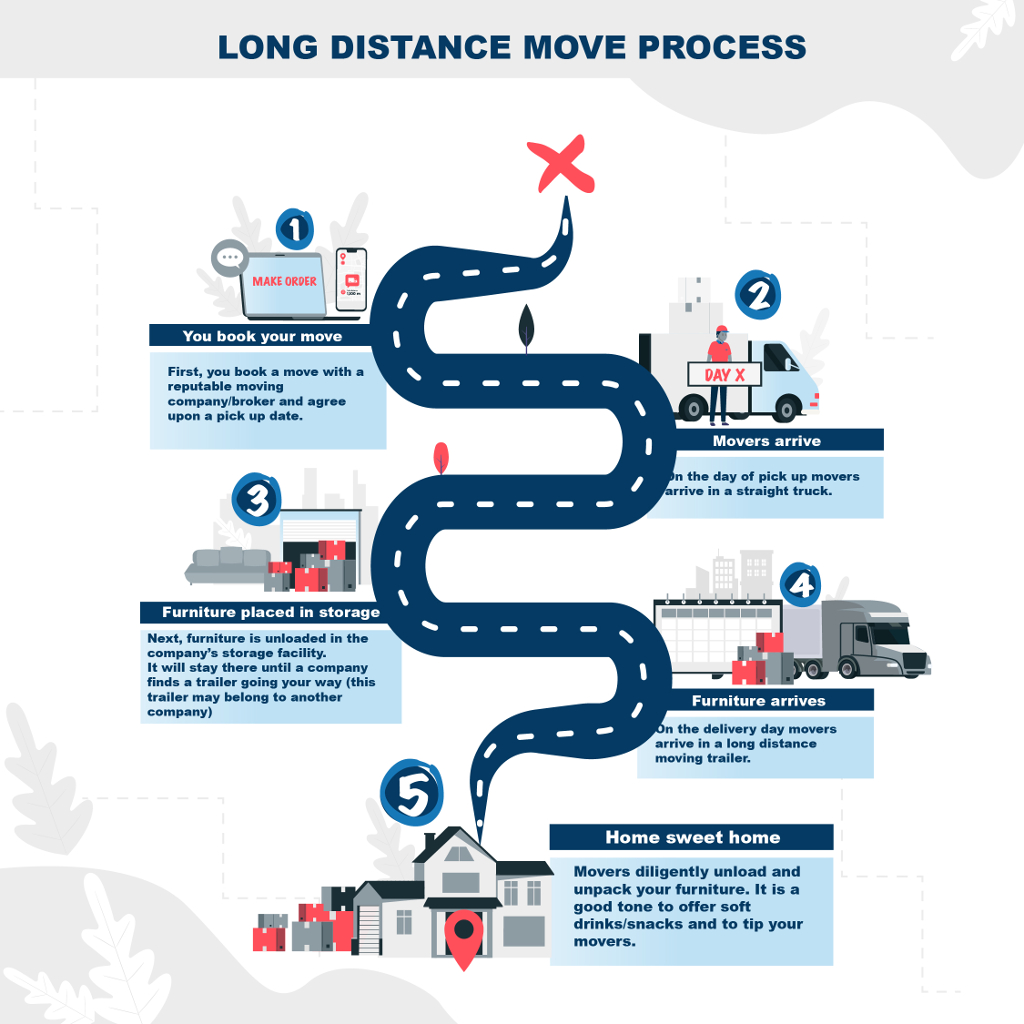 | | |
| --- | --- |
| You book your move | First, you book a move with a reputable moving company/broker and agree upon a pick up date. |
| Movers arrive | On the day of pick up movers arrive in a straight truck. |
| Furniture placed in storage | Next, furniture is unloaded in the company's storage facility. It will stay there until a company finds a trailer going your way (this trailer may belong to another company) |
| Furniture arrives | On the delivery day movers arrive in a long distance moving trailer. |
| Home sweet home | Movers diligently unload and unpack your furniture. It is a good tone to offer soft drinks/snacks and to tip your movers. |
Best Time to Hire a Moving Company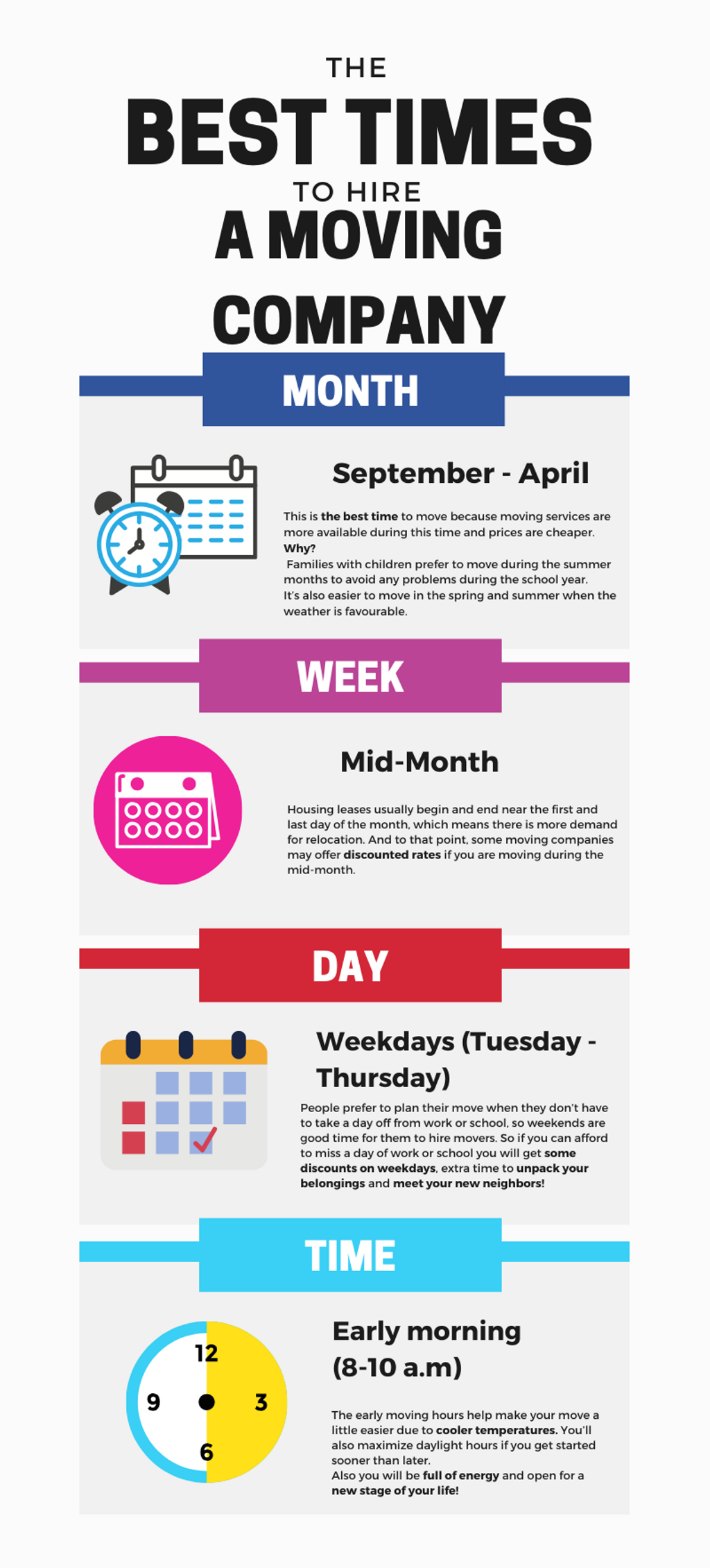 Best month: September – April
Best week: Mid-Month
Best day: Weekdays (Tuesday-Thursday)
Best time: Early morning (8-10 a.m)
What types of movers are there?

Depending on the nature of the items you're moving, the moving services you'll require during your relocation, and how far away you're moving, you'll definitely need to find a mover that specializes in what you specifically need. Luckily, there are many different kinds of moving companies! Make sure you think about your situation and have an idea what you're looking for before you start to source companies, as it might otherwise become very overwhelming very quickly.
These types of moving companies usually service moves occurring within one city, but depending on their schedule and the proximity of your end location, sometimes they are able to assist with a city to city move. These moving companies are required to be licensed at the state and federal level with the appropriate Departments of Transportation.
Most of these moving companies will consider the fact that you're local when providing you with moving cost estimates, resulting in lower costs for you because it'll be easier work for them! However, you'll likely still need to consider purchasing moving insurance; it can be an extra expense, but it'll protect you just in case anything goes wrong.
Do your research before booking with a local moving company, as some are better than others. Depending on where you live, you may be able to find online resources—for example, you can likely find online information about the five best movers in Dallas; or, if you can't find a concrete list, you can always learn how to find the best moving companies!
Long Distance Moving Companies
If you're moving from city to city or across state lines, you're likely better off seeking help from a highly qualified and skilled long distance moving company. The art and science of long distance moving does require specialized equipment and licensure on the part of the movers, so it's best to find a company that specializes in this specific type of moves.
How can you tell if you qualify for their services? The usual litmus test is measured in terms of the distance you'll be moving. If you're moving 200+ miles, your best bet is likely a long distance moving company. You'll also want to do some research on the pros and cons of movers vs. brokers, as both might be a good idea for a long distance move.
Interstate Moving Companies
Moving out of state, or even across several state lines? Even if the total distance you're moving is less than twenty miles, moving out of state often entails more logistics than an in-state move. Many movers are happy to handle the paperwork involved and have detailed knowledge of the laws you'll need to follow!
The commensurate costs involved with moving out-of-state may vary. For example, the costs of moving to Colorado, Texas, and California all change depending on the specific location you'll be moving from and to!
Cross Country Moving Companies
Cross country moving companies generally specialize only in moves that span coast to coast within the United States, or moves of at least six hundred miles (or more!). Mover beware, however: Moving brokers have a tendency to present themselves as movers in order to book a cross-country job (and collect the requisite fee!).
Because you're moving further, the approximate cost of a cross-country move will differ. To get an idea of how much it might cost to move across the country, check out how much it costs to move to Florida and the approximate cost of relocating to Louisiana.
Moving and Storage Options
You'll often find that over the course of a move, especially a prolonged one, you'll need to work with a moving and storage company to hold on to some items for you for a period of time. If you work with the storage options provided by your moving company, you may find that there are perks for your loyalty! Generally, if you use the same company for both moving and storage, the first 30 days of storage are free.
Household Movers
If you're moving your personal residence, these are generally the types of movers you'll want to employ. Because they're equipped to protect your furniture, provide expert packing services, and help you both load and unload your furniture and belongings, they are considered full-service relocation specialists; as the customer, you'll only have to tell them where to put things!
However, with such great service can come higher costs. Make sure to shop among different companies for moving cost estimates, purchase moving insurance for your own protection, and consider all the different components that go into differing moving costs before you make your decision.
Self-Moving Companies
If you're fond of the DIY option, you may be interested in researching self-moving options. With these, you'll be able to rent a truck yourself with pads and dollies, or the use of a pod that will then be shipped for you. The good things about the self-moving option are simple: it'll be cheaper for you over the long term. However, it will involve hard labor on your part. Especially if you aren't skilled at protecting furniture yourself or if you have delicate things to move, it may be worth it to trust the pros.
Moving Help
If you're looking to go mostly the DIY route, you can easily arrange to work with a moving company for a-la-carte, one-off helping options. Hiring a moving company for specific help with furniture protection or just to help load or unload bulky items is totally an option; just be sure to work with the company beforehand to see what their pricing is for smaller or shorter packages moving services.
Moving Services Ranked by Expense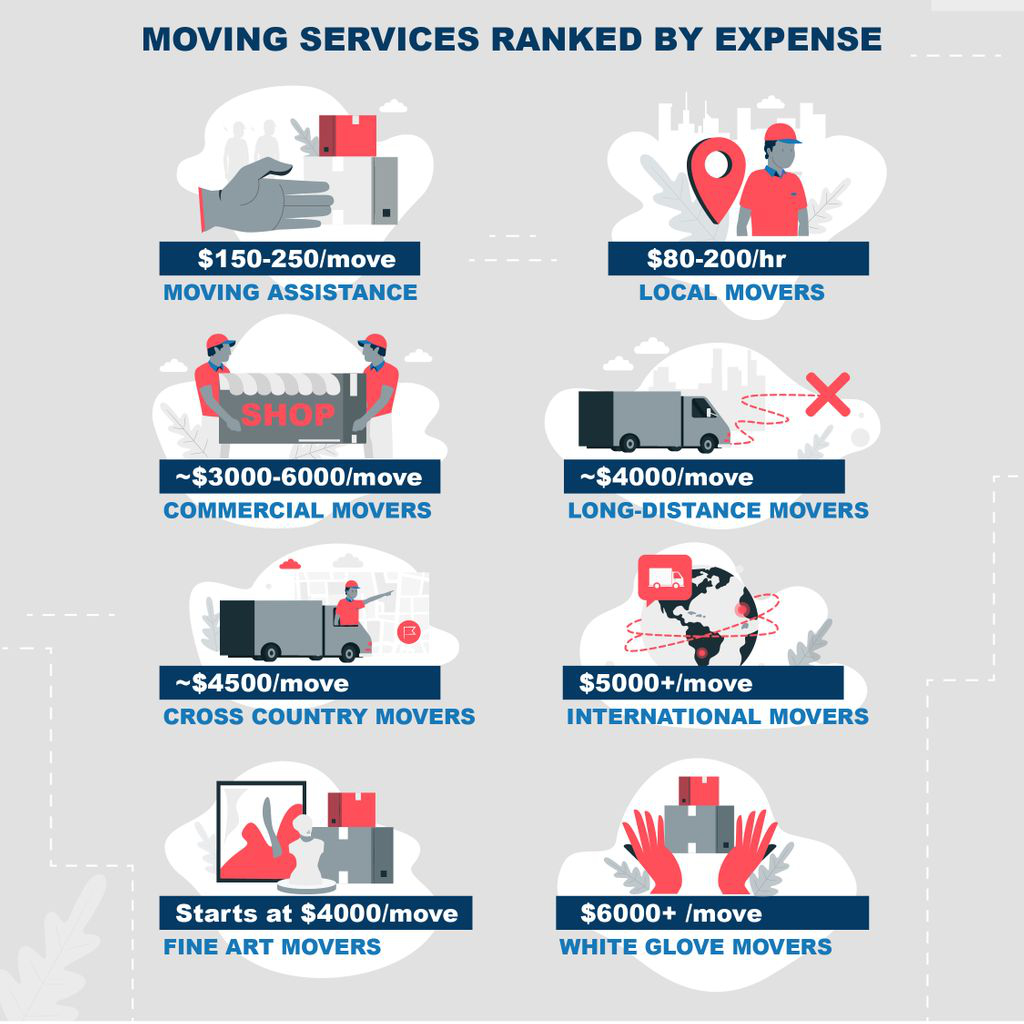 Cost
Moving Category
$150-250/move
Moving Assistance
$80-200/hr
Local Movers
~$3000-6000/move
Commercial Movers
~$4000/move
Long-Distance Movers
~$4500/move
Cross Country Movers
$5000+/move
International Movers
Starts at $4000/move
Fine Art movers
$6000+
White glove movers
Small Load Movers
If you're only moving a room's worth of items or a basement or small apartment full of goods, you may have to shift your moving strategy. Often, moving companies will have a minimum volume of goods that they will move in order to justify the use of their time, equipment, and expertise. A typical volume threshold is 200 cubic feet—about a studio apartment's worth.
If you have about that much or less than that to relocate, consider working with a company that specifically only takes on small loads. You'll likely pay less for their services than you would to get a traditional mover to manage your unique project.
Auto Transport Companies
If you need to move a vehicle, then you'll likely need to work with a moving broker. They'll be able to book your job specifically as an auto transport one, which will save you time and money. Then, they'll be able to work to place your job on the board for carriers to pick up and deliver your vehicle from your starting location to your new home.
Make sure to reach out to furniture moving companies and brokers to see if they provide auto transporting services, as well! You'll have to weigh the pros and cons of movers and brokers, but doing your research will help you find the best deal for you.
International Movers
If you're managing a move across international borders, you know that there are myriad logistics for you to handle. Make it easier by relying on international moving professionals. Typically, international movers are brokers, which means that they'll handle all of the different steps and contacts for you—including arranging for physical pickup of your goods.
This means that they'll subcontract out the work for you so you don't have to do much more than provide overarching direction! International moving brokers will work with a moving company local to you for initial furniture pickup, and they'll arrange to have your items delivered to a port. Then, your broker will find shipping options for your items to make their intercontinental voyage.
Once your goods have been delivered to your new location, the brokers will work with a reputable moving company in your new neighborhood to unload and deliver your items to your final destination. Brokers are typically used for this process because only rarely do companies have trucks and shipping managers in both your countries of origin and relocation.
Office Moving Companies
If you're looking to manage your relocation for your business with as little downtime as possible, you can choose to work with a specific office moving company in order to maximize your workflow and resume operations as quickly as possible.
Office moving companies have crews with specific skills and specialized tools to manage your office needs. Office movers will be able to better handle the heavy lifting, organization and security which is required in an office move as opposed to a residential relocation. When you're moving an office, you'll need to consider the various steps involved with moving computers and other productive technology, secure document shipping and storage, and bulky office equipment such as desks and chairs.
If you decide to work with a specific office moving company, all of this will be taken care of without any errors, and you'll find that your new office has been unpacked and organized for you upon delivery!
White Glove Movers
If you have high-end pieces in your home or office which require specific care and consideration, you might find better peace of mind working with a moving company who works specifically with the luxury sector. If you're willing to pay a considerably higher price for your service, you may find that the amenities offered are well worth the investment.
Some of the services offered include polite, incredibly efficient staff and brand new blankets, white gloves, and other specialized equipment to ensure your experience is spotless, secure, and even sophisticated. If you're managing a hopefully stress-free move for seniors, if you're moving with plants, or if you have pets to manage during your relocation.
Fine Art Movers
For those who own high-end decor, fine art, or any delicate heirlooms or antiques which need a deft hand and extra care during a move, fine art movers may be the ones for you. Fine art movers are especially experienced and dextrous in moving paintings, statues, vases, and full-scale art installations.
They specifically are the best option for bulky musical instruments such as pianos or anything else which requires special support and protection during a move.
Commercial Movers
Do you have a warehouse or shop that you're looking to move? For massive amounts of inventory and specialized warehouse equipment and infrastructure, you're going to need to work with a company that knows precisely what it takes to move large amounts of items without any snafus or mismanaged bulk products.
You'll find that working with a professional company of commercial movers will help you start up again after your relocation with minimal downtime!
Specialty Movers
It may be the case that you have items in your residence or place of business which are simply too much trouble to move by yourself—or require a lot of force or specialty equipment to ensure the safety of the movers and the integrity of the pieces! Bulky items such as hot tubs, pianos, wine collections, safe, and heavy appliances of all kinds may fit into this category. Whether you need help moving your piano or want someone to help you professionally uninstall, move, and then reinstall your hot tub—looking for movers who specialize in the items you want moved may help you save money and will certainly help you best take care of your personal belongings.
What type of mover or moving company is right for me?
The short answer is a simple one: The moving company that is right for you and your specific relocation depends upon the specific needs you may have, and the budget you're comfortable working with. To determine the needs you have, look closely at your inventory. Any specialized items may require special care! Think also about the distance you will be moving. Local, long-distance, and international moves all have their own quirks, and differing moving companies may have the ability to handle these in better ways.
In order to determine your budgetary needs, you do have a few tools at your disposal. Use moving cost estimates to gauge a general idea for the investment you may be making, and make sure to get moving insurance for your own protection—just in case anything happens. There certainly are myriad moving costs associated with any relocation; ensuring that you are covered in the case of catastrophe will give you much needed peace of mind.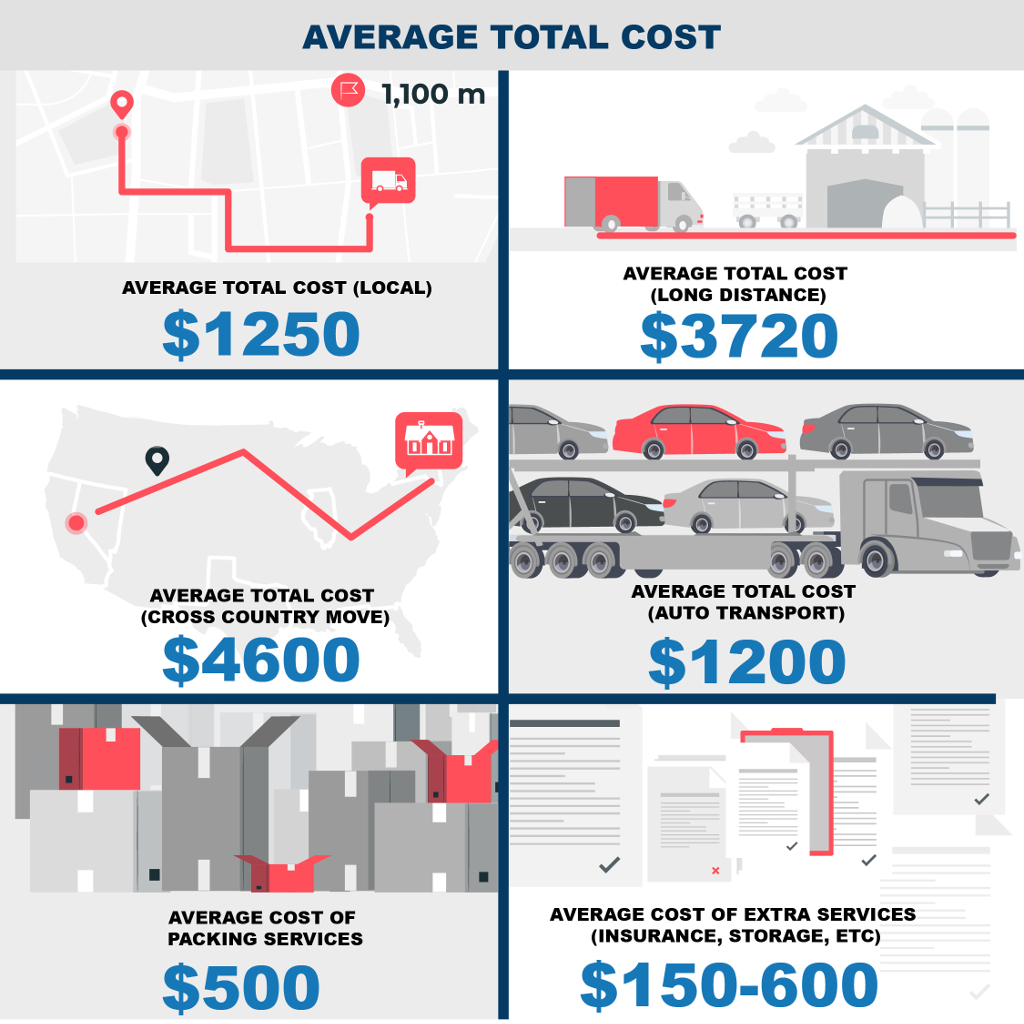 Category
Cost
Average total cost (local)
$1250
Average total cost (long distance)
$3720
Average total cost (cross country move)
$4600
Average total cost (auto transport)
$1200
Average cost of packing services
$500
Average cost of extra services (Insurance, storage, etc)
$150-600
How should I find the best movers for me?
That's a great question! When you're thinking about hiring a mover, there is one step you should ensure above all others: you're going to want to make sure that they're licensed. Fortunately, there are many online resources you can use to check this. Doing your homework now will save you many headaches later!
If you haven't decided whether you want to work with a mover or a broker, you should consider that decision carefully. If you do find that a company you want to work with is a broker, instead of a mover, just ensure that they're up front about the services that they offer.
It's a good idea to get several moving estimates from several different companies—at least four—to stack up the competition and get a good idea for the market. When you have the estimates, strongly consider selecting one of the companies with a middling offer. The lower ones may be attractive financially, but they may be a low-ball offer which will be hiked up with unforeseen costs afterward. It's best to go with a realistic, if slightly higher, number.
All that aside, there are four basic ways you can try to find good, reputable movers:
Good Reviews: Do a basic Google search of any company you're thinking about hiring. Go through any reviews carefully. The online reputation of movers is incredibly important. However, be wary of any reviews which seem to be overly glowing; it's not outside the realm of possibility that a struggling moving company will have hired someone to write good reviews for them.
Recommendations: One of the best ways to find good movers is to ask around your friends, your family, and people in your area who you know have moved recently. Not only will you likely be able to find resources similar to those you need, you'll be able to trust the recommendations because you know that the people giving them to you are not being paid to do so.
Years in business: When you're checking out a potential moving company online, make note of just how long they have been in business. If it's anything over about five years, that's usually a good sign.
Businesses that are unreliable, untrustworthy, or unequipped to do their job well tend to go out of business far before that (usually within the first year). Check not only the official web site of the business you're considering but the BBB (Better Business Bureau) database as well, just to make sure everything checks out.
Don't go with shady movers: As tempting as it may seem, don't decide to work with any moving companies which seem shady to you in any way. You might save money right now, and that might feel good—but in the long run, movers who don't have your best interests in mind are rarely worth the time or money you might save.
Unlicensed or shady movers can often afford to offer you lower rates because they don't pay any insurance fees—meaning that if something goes wrong in the midst of your move, there's nothing you (or anyone) can do about it. To be on the alert for shady movers, you should keep an eye out for overly low estimates. Basically, if it seems too good to be true, it probably is!
Other things to be wary of include the request for a large deposit up front, as in, anything more than 20% of the total—especially if they want it in a non-refundable manner. If the movers don't have a physical address, it's time to look elsewhere!
Lastly, pay attention to the website that the moving company owns. Is it a good one? If it's glitchy or dated, and especially if they don't have one at all, then keep looking.
Warning Signs that You're Working with a Bad or Fake Mover
a) File Name: warning signs about movers
b) Descriptive Captions: How to be aware of bad or fake movers described in our infographic
c) Alt Text: warning signs that you are working with bad or fake mover infographic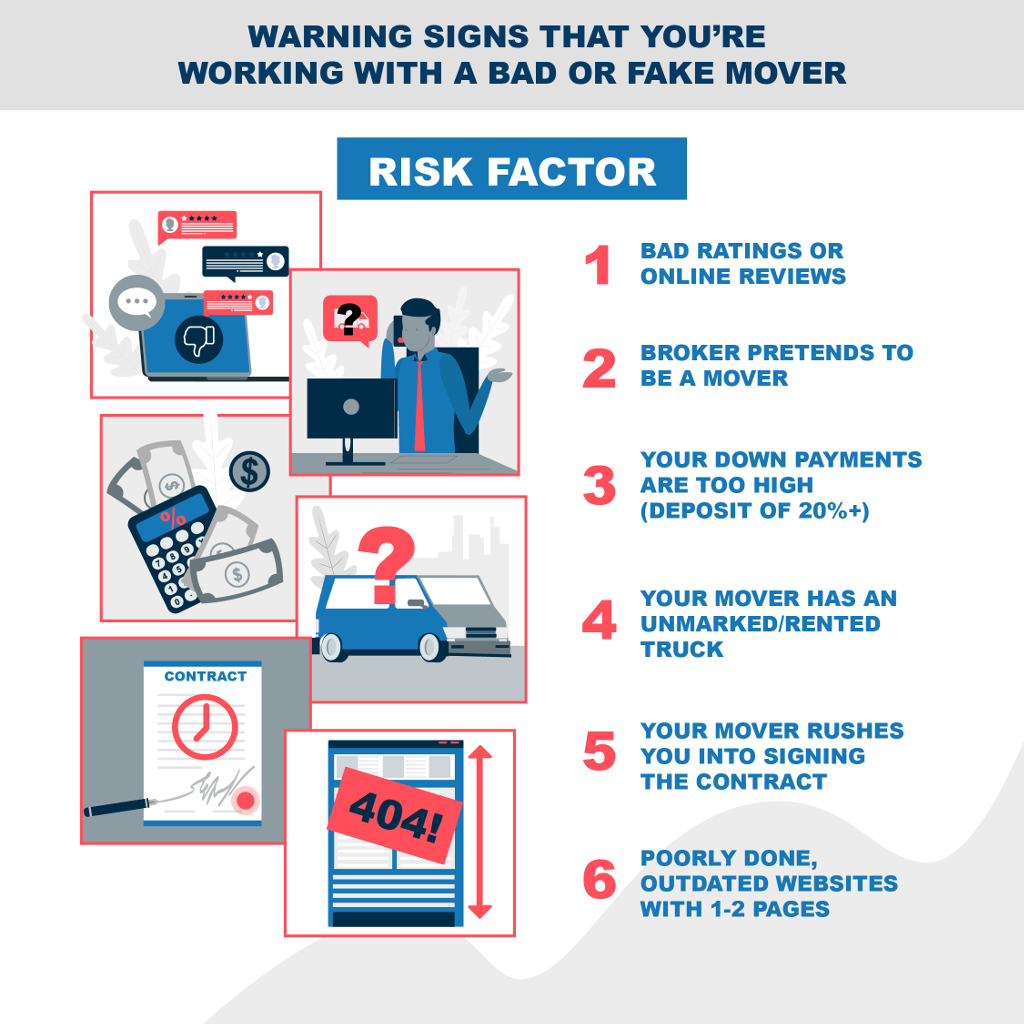 Rank
Risk factor
1
Bad ratings or online reviews
2
Broker pretends to be a mover
3
Your down payments are too high (deposit of 20%+)
4
Your mover has an unmarked/rented truck
5
Your mover rushes you into signing the contract
6
Poorly done, outdated websites with 1-2 pages
What's the bottom line when it comes to looking for a good moving company?
The bottom line? Every mover wants to gain your business, and some will be willing to do anything to make that happen! Luckily, if you've made it this far in the article, you are better equipped then most not to get scammed by people looking to make money quick. The competition is tough out there for movers—don't fall for the tricks of shady ones, and do your homework to find good ones. You'll find that your investment will be well worth your stress-free relocation.