Date: 08/07/2020
Reading time: 11 minutes
Share on
Often, when you're trying to complete a move, movers might hear that you're living in an apartment and assume yours will be an easy move. However, this may not always be the case! Particularly if you live on a higher floor of an apartment building or in an older apartment with unique architecture, moving even an apartment can be a true struggle.
Fortunately, you don't have to do it by yourself! In this handy guide, we'll help you navigate all the aspects of a successful apartment move—starting with understanding all of the different types of apartment moving services, and how to hire the best apartment movers for your job.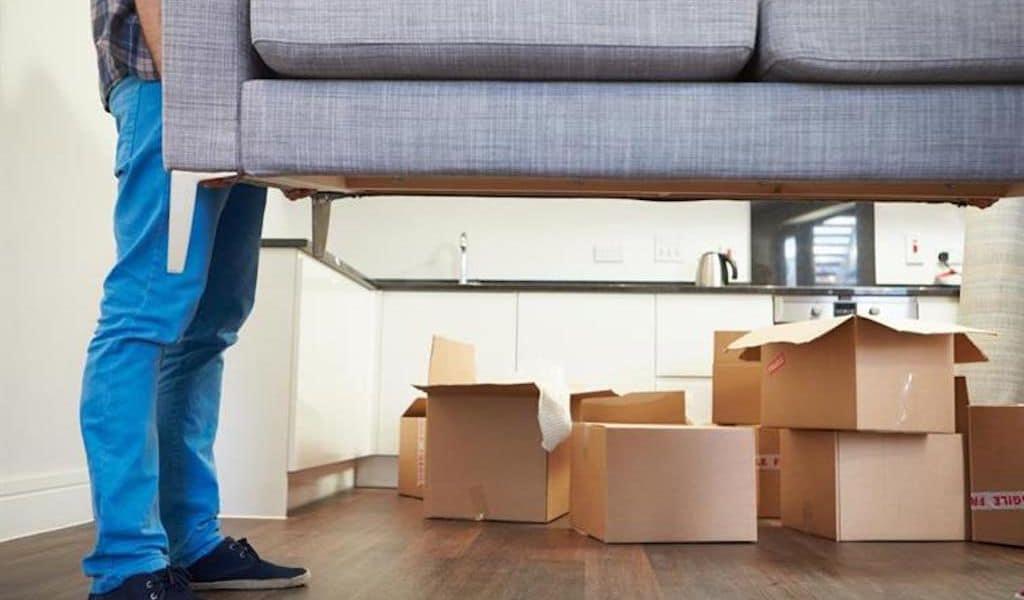 Contents:
Types of Apartment Moving Services
If you're trying to figure out the complex process of moving, good luck! From packing to planning, hiring movers, and more, there certainly is a lot to do that goes into a successful move. When you're looking to outsource some of the activities and projects that need to happen in your move, it's important to have a comprehensive idea of all of the work that needs to happen.
Here are the six different types of apartment moving services that you might want to hire, and consider budgeting for when you first begin to plan your move:
Storage for Your Apartment: If you find when you're packing up your belongings that you have more than you need to bring with you (or more than you next apartment can hold!), it might be necessary to get some temporary storage. This is usually quite easy to find, for very reasonable rates, but it is certainly something to remember.
Packing & Unpacking: If you're lucky, you might have had enough time to handle your packing by yourself over the weeks and months leading up to your relocation. On the other hand, you might not have been quite as lucky! If you're going through a last minute move or if you have a large number of items, it might be necessary to hire help for packing and unpacking. Remember to pick up the right moving boxes and supplies to help organize your belongings! The right tools can make this tough job easy as can be.
Furniture Disassembly and Reassembly: If you have lots of large furniture, it might be important to consider if you're able to to get it out of your apartment by yourself, or if you'll need assistance. Movers who are able to assist with furniture disassembly and reassembly are often able to help with furniture protection, as well—ensuring that all of your furniture reaches your new home safely.
Loading & Unloading: Full-service movers will often take care of loading and unloading the truck as part of your moving package, but if you're trying to do the move yourself, be aware that you will have to be strong enough to tackle this on your own!
Local Apartment Movers: You should likely be aware that every type of mover has a different niche. Some movers only like to specialize in moving bulky items or cross-country moves, while other moving companies do local moves or smaller moves—like those for apartments. Make sure to do your research and book a mover that's able to do a local move, if that's what you need.
Long Distance Apartment Movers: Conversely, if you need a long distance move, you'll need to make sure you're requesting assistance from a team that's able to take care of you and your home in that way.
Ultimately, the number of entities you associate and ask for help in regards to your move is up to you. However, it's a good idea to be sure that you're able to handle it before making the decision! Sit down and think rationally about what you can expect to take on, and what you might need to outsource. A little bit of planning will make it far easier for you to do what you need to do!
As you're looking at moving companies, it's a good idea to make sure you speak with multiple people, and get as many different moving estimates as you can. The idea is for you to have many different informed choices, so that you can make the best choice for you. This will definitely require at least a little research.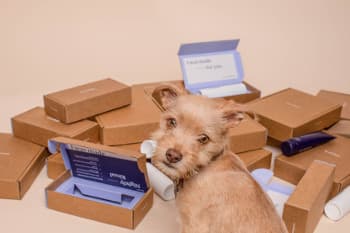 Reasons to Hire Professional Apartment Moving Companies Near Me
There are a few reasons to hire a professional apartment moving company in your area, but perhaps there is none so compelling as:
The fact that a local apartment mover will know precisely the environmental conditions under which you will be moving. Depending on how long they've been in service, they might have even worked with tenants in your building before. If they're familiar with your area and perhaps even the architecture of your building, it will make the entire job easier!
If you work with local movers, you might not have to pay them as much for transportation to get to and from your old apartment and the new place you live. If you hire a moving company further away, you might have to pay for a lot more transit costs!
Finally, if you're able to hire a professional moving company near you, there's a good chance that you'll be able to find past customers of that moving company to give you a good idea of what their experience was when they were working with that company. It's always a good idea to speak with past customers, and you're making it much easier for yourself to do so when you work with a professional company in your area.
How Much Does it Cost to Hire Professional Movers?
The cost of hiring professional movers is influenced by many different pieces of information, including the reputation of the moving company, the distance you'll be moving, and the difficulty of your move. The difficulty of your move will be determined by a few different pieces of information as well, such as the location and size of your current apartment.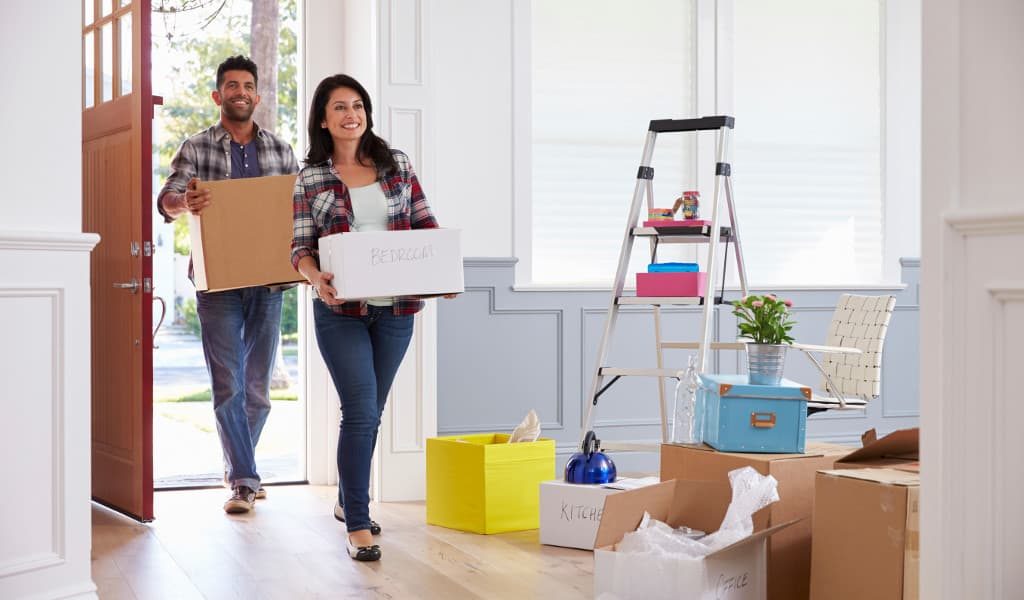 Ultimately, the cost will be more than if you planned on DIY'ing the move, but the benefits and quality assurance that you will receive may be more than worth the cost. Shop around to see if different moving companies are offering sales or if you can find a referral from a past customer; these are both strategies to help drive down the total moving costs.
If you're trying to justify hiring professional movers, simply remember that even though moving may be something you could technically handle on your own, your lack of experience and sophisticated tools may lead to a compromise of your safety, or even a piece of furniture you own being lost, stolen, or broken. When you factor in these risks, it becomes clear that it might be entirely worth it just to hire a trusted, professional moving team.
When you're considering the cost of a move, you'll need to think about moving insurance as well. Insurance is a great idea: it can help cover the costs of anything that is stolen, broken, or lost as mentioned above. Most reputable moving companies will either require or have their own moving insurance. This is convenient, but it will drive up the cost. Don't be scared away by this higher cost, though: it's the kind of thing that will definitely come in handy in the future, whether it be because you actually take advantage of the insurance or if it just gives you the peace of mind you need!
Lastly, when you're considering different movers and their associated moving costs, be sure to request a moving cost estimate. Request one from every mover you research, as they are generally no-obligation and can present a great way to rank and choose from your potential movers.
One final tip: When you're trying to figure out which mover to go with, don't select the one with the lowest moving cost estimate. Even though this may seem like a great idea, it's a good way to get caught up in a scheme or to end up with movers who do not care about you or your happiness. Select a middle-of-the-road option instead, so you don't have to worry later about the quality of the movers you have hired.
Estimating the Cost to Hire Movers (Both Locally and Long Distance)
Before you decide to hire movers, you likely need to know how much the investment is going to be. After all, even though movers might be necessary in your situation, there's no denying that the investment may be a large one—which makes knowing it a good idea as early as possible, especially for your planning and budgetary purposes.
While every mover is going to have a different way of calculating cost depending on the difficulty of your specific move, on moving insurance, on business at that time of year and any other personal considerations, you can often get an idea of exactly what to expect based just on how many items you have, and the size of your current and future apartment.
Very roughly, here's a consideration of how much it may cost to move apartments of various sizes, for both local and long-distance moves. It may be helpful to remember that local movers will generally charge by the hour: between $90-120/hr, including the truck rental, or $60-80 for labor only. Long-distance movers will generally charge by weight. An average fee would be $0.70 per pound per 1,000 miles.
Approximate estimated cost of moving a studio or one-bedroom apartment: For local moves, you should budget $150-200, and for long-distance moves, you should budget $1200.
Approximate estimated cost of moving a two-bedroom apartment: For local moves, you should budget $375-450, and for long-distance moves, you should budget $1,500-2,200.
Approximate estimated cost of moving a three-bedroom apartment or house: For local moves, you should budget $800-900, and for long-distance moves, you should budget $3500-4200.
Approximate estimated cost of moving a four-bedroom apartment or house: For local moves, you should budget $1,025-1,565, and for long-distance moves, you should budget $6,300.
Approximate estimated cost of anything larger: For local moves, you should budget around $2000 (or more!), and for long-distance moves, you should budget $7,500 (or more!).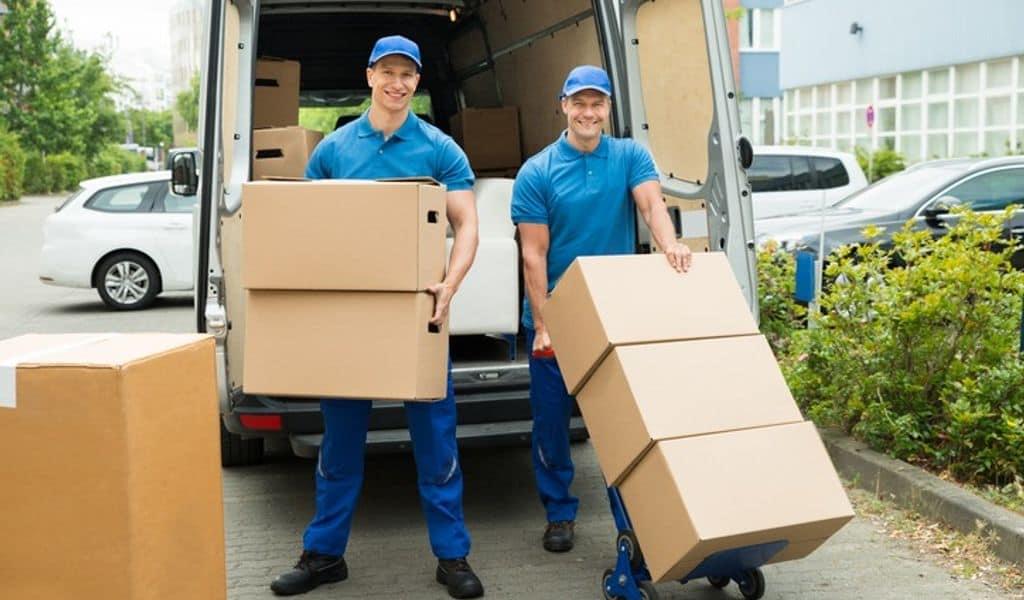 There are other considerations you may wish to take into account. Making the decision to work with movers or brokers, for example, may make your move more or less expensive. You'll definitely want to know exactly what you're getting into, however, if you decide to work with brokers! If you're pursuing a long-distance move, your move estimate will likely be higher than for local moves, because you will be expected to cover the cost of travel for the movers.
Ultimately, it'll be a good idea to do lots of research before you decide upon a moving team. If it helps, we've compiled a fantastic guide to the 10 best long distance moving companies. One of them may be able to help, and if not, they all provide excellent starting points for your research for a top-tier moving company.
Additional Service Cost Estimations
It may be the case that you have specific items in your apartment which will drive up the cost. These are any items which may be more difficult for your movers to relocate, due to their delicacy or bulk. For example, one such item may be a pool table.
Pool tables are very expensive, which means that your moving company will need good insurance to move them, and they are bulky as well, which means that they will take up a lot of room in your moving truck—room which could be used at a potentially greater value to pack many other, smaller, items.
Ultimately, it's recommended that you only take the pool table with you if you definitely plan on using it in your new home! It would be a shame to go to all the effort and expense to move your pool table, only to discover that you didn't really need it after your move.
Other fine items which may increase the cost of your move include hot tubs, pianos, fine art, or any commercial-grade equipment which may require a deft hand to relocate. Each of these items may bring a lot of value to your life; however, because of this precise reason, it can be a big deal for movers to relocate them. Often, you'll find movers that simply refuse to move pianos or hot tubs, because they are so bulky and delicate. If this is the case, you'll have to find a mover who is able to help you with all of your required items.
Make sure that you speak with the movers in person and request a detailed moving estimate, which outlines precisely how they will protect your belongings. Ask how long the moving estimate will be in effect as well as how much moving estimates typically differ, and then you'll be set to go!
Once again, you might notice that you are tempted to select the mover who issues you the lowest moving estimate. This is not a good idea. Nefarious movers might offer you a lower rate and then drive up the price later, or hold your belongings hostage in order to get more money. Save yourself the trouble and headache, and simply invest the extra money in a professional mover whom you are able to trust.
You can reduce the cost of your apartment move in several ways, as long as you have the time to think and plan ahead. Reducing the cost of your move is likely a good idea, as it will give you the power to splurge in other areas if you need to! If you think about it, there's a very good chance that you'll have to get something repaired or purchase a new piece of furniture in your new home, so making the process of getting there as inexpensive as possible is an investment that will work out over the long run.
Fortunately, we've done the research for you and made it easy to figure out just how to make your apartment move as cheap as possible. Here are a few suggestions to incorporate into your move to save money where you can:
Before you move, get rid of as much furniture as possible. If you have a lot of cheaper furniture, get rid of it! Donate, gift, or plan to leave it behind in another way. You may find that transporting that furniture is worth more than the furniture itself is!
Find ways to get free moving boxes. Don't purchase new boxes from moving stores! See if you can borrow boxes from other people who have moved recently, or from stores who no longer need them and would be recycling them anyway. Alternatively, make sure to use box-like items you have in your home—for example packing up all of your clothes in suitcases and dresser drawers.
Before you move, commit to eating out everything that's in your refrigerator. This might result in some odd meals, but it will make your last few weeks much less expensive! Planning ahead will make this easier.
Make sure you pack a 'moving day bag' that has everything in it that you will need for the day you're moving. This might include phone chargers, technology accessories, toothbrushes, toiletries, and more! Then, don't put it in the moving van; that moving day bag should stay with you for the duration of your trip. It'll make your first night in your new home much easier, and if your belongings are lost or delayed for any reason, you'll be glad you have it.
Pack your knives inside oven mitts, and then tape the openings of the mitts shut tight. This is a tiny hack, but you certainly don't want to risk getting hurt—which, after all, would make your move not only more expensive, but also incredibly painful.
Request measurements for your new home. If you're able to visit it in person before your move, take detailed measurements yourself! That way you can know beforehand if your couch is going to fit in the new space, for example. If you know already that it won't, then you won't have to put yourself through the process of moving it only to have to figure out a way to get rid of it later!
Label each box thoroughly. As you're packing, use a felt-tipped marker to note on the outside of the box not only what is in the box, but very clearly which room of your new house the box should be placed in. Make sure that you write legibly, and use directions that anyone can understand. For example, instead of writing 'office' or 'master bedroom', write 'largest room on second floor' or 'small room by front door'. This will help your movers place your boxes in their intended room, which will same them confusion and save you time.
Lastly, don't purchase any new packing material. Sometimes, the same places that will sell you wardrobe boxes and other cardboard moving necessities will offer to sell you an amount of packing peanuts or plastic wrap. Don't do this! It's expensive, and it's not very good for the environment. Instead, use towels, sheets, and large articles of clothing that you already own to their best advantage. You can use these sorts of items to pack up plates, kitchen appliances, pictures, and more.
No matter what you need to do in order to figure out how to get a great price estimate on your home, or make your move cheaper, do it! It'll pay off in the long run; your future self will thank you.
Don't Forget to Tip Your Movers
When you're putting together your budget, you might be thanking your lucky stars that you have a smaller apartment or are just moving around the corner. This might result in your enjoying a lower-than-normal quote, allowing you to save money! As moving is an expensive process and you'll likely be more than able to spend that money elsewhere, you might be congratulating yourself and ready to move on.
If you find that your movers have treated you fairly from the initial estimate all the way through to the final box unpacked, don't forget to tip them! Particularly if they gave you a good rate, if you benefited from a referral, or if you just have a low price based on the length and difficulty of your move, it's a good idea to give a generous tip. Keeping moving companies that do good business in business is a good move for your community, and it can ensure that you have good options the next time that you need to move.
Ultimately, if you're able to give a generous tip, it's always a good idea. Unless the service was completely horrendous, tip your movers. Even if you don't see any benefit from it, you might be able to help someone else have a wonderful day.
Wondering exactly how to tip your movers—and how much? Movers don't generally expect a tip, but one will be appreciated. There are many different thoughts on how much the tip should be, but one general rule of thumb would be $10 per mover for a half-day's work, and $20 per mover for a full day's work. Make sure you give the money—in cash, in envelopes—to each worker individually; they'll appreciate the personal touch, and you'll be able to avoid unscrupulous foremen.
Conclusion
It can be easy to think that your apartment move is going to be necessarily easier than moving a large house. However, apartments can be at least as difficult, and sometimes more so, because of stairs, elevators, and awkward routes of access! Your movers will assess the difficulty of your move and charge you what they believe is fair. Remember to check with several different movers to ensure that you get the best price and service you can.
Moving in any case can result in a lot of frustration and stress. If you're moving with kids, plants, seniors, or pets, that stress can be very high! Whether you're scared of moving or you're used to making moving fun, just do your best to plan right, budget correctly, and do the work to select the right mover for you.
Choosing the right company of apartment movers will make your job a lot easier, and is likely the most important step you can take to make your move a breeze. If you find that you've gotten good service, remember to tip your movers! Once your move is done, before you know it you'll be looking up ways to feel more at home in your beautiful new apartment. Good luck, and remember to try to make your move fun!