Date: 02/01/2020
Reading time: 15 minutes
Share on
Utah, also known as the Beehive State, is located in the western part of the United States of America. Its landscapes are characterized by beautiful mountains, high plateaus and amazing deserts. The state is bounded by Idaho to its north, Arizona to its south, Colorado to its east and Nevada to its west. On January 4, 1896, it was the 45th to state join the United States Union. It is also 13th largest in the area and 30th most populous of the 50 states. The state was named after a Native American tribe called "Ute" which inhabited the land before the arrival of Mormon Settlement. Today, Salt Lake City, the state's capital, is the world headquarters of the Mormon church.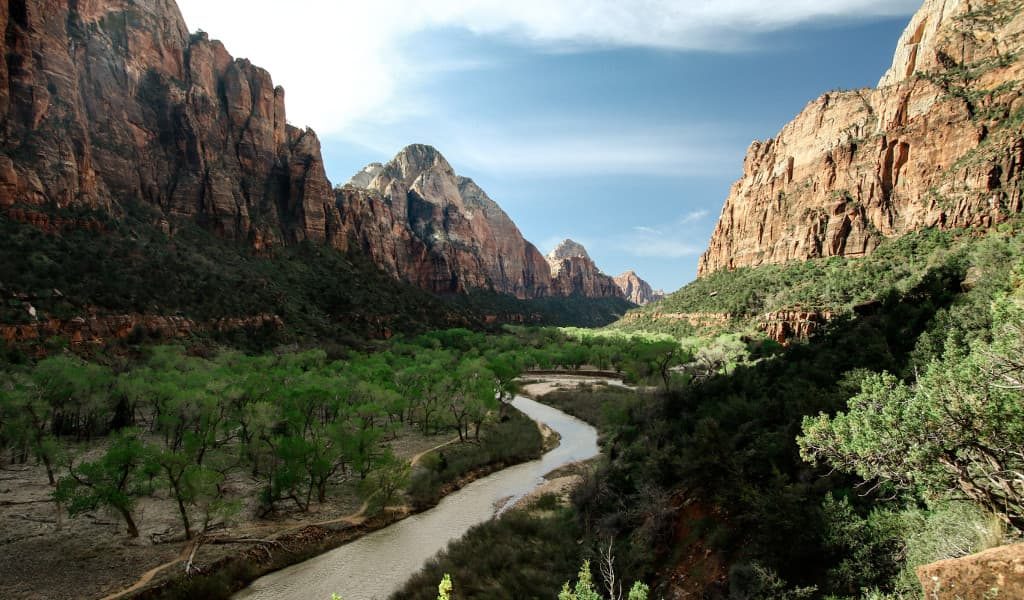 Contents:
Pros and Cons
Moving to a state like Utah takes careful planning to know and be prepared when you have stayed there. This is the reason why it essential to always research its ups and downs when living in its cities. Here are some:
The Upside
Low Cost of Living: The state is easy on the pocket when it comes to basic needs such as groceries, utilities, and real estate. Its low cost makes it inviting for people to live in especially when some areas offer centralized access to its real estate without charging too much.
Good Economy: Utah has a stable economy as it is one of the states that has the lowest unemployment rate. It also provides high paying jobs and quality education to its citizen which helps in the growth of its economy.
Low Crime Rate: The state possesses a "sense of community" in its citizens wherein it contributes to its low crime in its communities. It is ranked 12th in crime and safety of the 50 states according to US News which makes it one of the safest states to live in.
High-quality Education: The state provides high-learning institutions for its citizens resulting in average or above-average grades from its students. In addition, many of the state's school receives national recognition for the quality education it offers.
Various Outdoor Activities: Due to its beautiful landscape, the state has countless recreational activities in its area which are perfect for the outdoor enthusiast. Some of its tourist attractions allow hiking, biking, camping, fishing and many more.
Great climate: Utah is perfect for outdoor activities as it has a dry and continental climate. It has warm summers, mild winters, and low precipitation levels throughout the year.
Breathtaking Landscapes: The state is home to countless scenic landscapes that contributes to its tourism. It has deserts, national parks, forests, and many more.
The Downside
Expensive Home Prices: Though real estate is cheap, housing cost are its opposite because of high prices. Average home prices in Utah cost around $302,000.
Lack of Beaches: The state is abundant in beautiful terrains and lands but lacks an ocean to complete its landscape. This is the reason why there are few beaches in the state.
High Taxes: Compared to other states, Utah has high taxes which are paid by its locals. Some of these taxes are income tax, property tax, sales tax, gas tax, and many more.
Religious Citizens: Utah is filled with Mormon residents. It also makes up almost half of its population. Though there is acceptance on other religions, there is are still some that requires you to comply with their beliefs.
Long Roads: As the state is filled with abundant land terrains, most of its roads are often very long and may make traveling to other areas longer. Some of these roads also lacks speed bumps which is why there are often drivers who drive past their speed limit.
Huge Desert: Utah's western part is mostly desert while the other parts are terrain. Not only is the western part of it is the state's hottest area but also is the most prone to insects and lack of water.
Lack of Diversity: The state is lacking diversity as most of its citizen is composed one cultural background. In addition to this, 91% of its population are white and have the same religion.
Fun Facts
Utah is filled with historical stories and unique landscapes which many do not know about. The state has many surprises that are interesting to know about. Here are some exciting and fun facts about the state of Utah:
The Arches National Park in Utah contains more than 2000 natural sandstone arches.
The inventor of the prototype of the first all-electric television, Philo T. Farnsworth, was born in Beaver, Utah.
The state's Great Salt Lake is four-time saltier when compared to any of the world's oceans.
The Brigham Canyon is the largest open-pit mine in the world.
The capital city of Utah has more plastic surgeons than any other city in the United States
The state is home to Zions Co-operative Mercantile Institution which is the first department store in the U.S.
Utah hosted the 2002 Winter Olympics
Bonneville Salt Flats is composed of 30,000 acres of the densely packed salt pan. It has an incredibly flat and smooth surface which makes it for speed seeking land-racers.
Levan, a town in Utah, is spelled navel backward. The reason behind this is that the town is located in the middle of the state.
Utah was the location of the first KFC. It was located 1500 miles west of Salt Lake City.
Funny State Laws
It is illegal to throw a snowball in Provo, Utah. Doing so will result in a $50 fine.
Drinking low-quality milk is prohibited in the state.
In Logan, Utah, it is illegal for women to swear.
Causing a catastrophe is not allowed in the state.
Modifying the weather such as cloud seeding requires a permit.
The husbands are held responsible for any criminal acts their wives will commit in their presence.
The state prohibits fishing using a crossbow
It is illegals for individuals to have beer containers larger than 2 liters.
Cyclist are required to have at least one hand on their handlebars
Weather and Climate
The state of Utah has a four-season climate (spring, summer, fall, and winter). Its climate is characterized by hot summers which are accompanied by cold nights, and mild snow during the winter season. Due to its geographic position, its mountain boundaries in the west affect the area's precipitation level making it an arid state. It experiences local thunderstorms during summers which sometimes creates flash floods when it drops large quantities of rain. The average temperature in Salt Lake City during July ranges from 18°C to 33°C while the average temperature in January ranges more than 2°C to less -7°C. Snowfall during winter has an average of 4.5 feet which ranges from none in the southwestern areas to more than 10 feet in ski resorts.
Nature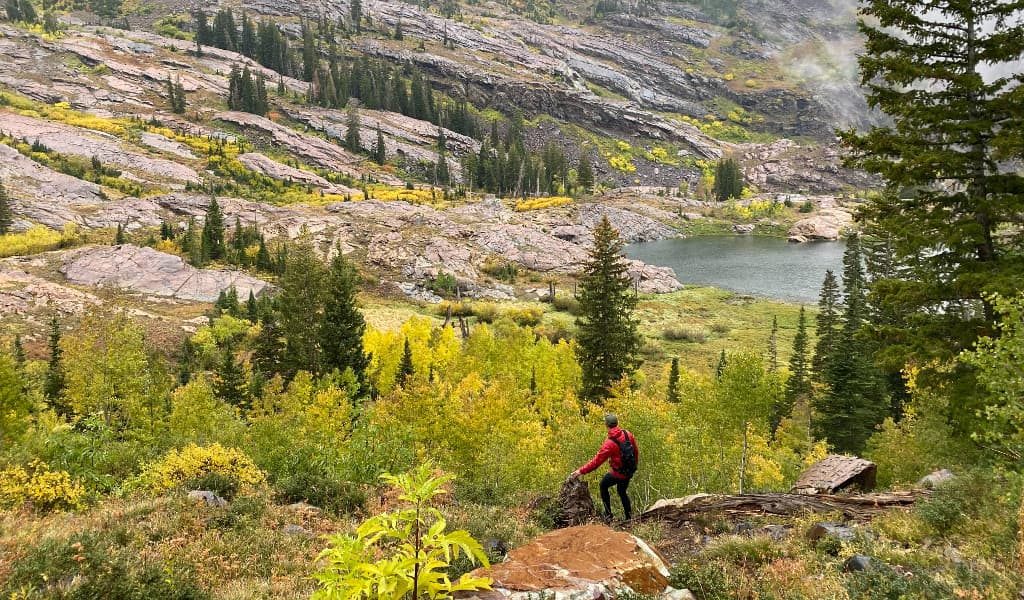 Utah boasts magnificent and amazing landscapes in its land. Its abundant nature is what makes the state home to various wildlife and wonderful attractions. It is what makes most tourists come back. From deserts to the forest, it has a countless supply of natural attractions for guests and locals to enjoy. With over 4,000 plant species, it will surely bring an unforgettable experience to its guests. Some of its top natural attractions are:
Zion National Park
Arches National Park
Monument Valley
Bryce Canyon National Park
Grand Staircase-Escalante National Monument
Cedar Breaks National Monument
Natural Disasters
The state is not spared with natural disasters in its lands. It also experiences plenty of natural hazards which is why Utah's Department of Public Safety is active in making the public aware of what these are and what to do should it happen. Here are some of its natural disasters:
Floods: Flooding is one of the most common disasters in the state. It can occur anywhere and anytime in an area. It can cause serious damages as it can destroy homes and serious injuries to a person.
Wildfires: Wildfires are often caused by extreme heat in a forest. These can cause a serious threat especially when it happens near towns or cities as it not only destroys homes but also causes death.
Landslides: These often happen to areas with steep slopes and results in destructions of property and even blocked roads. Landslides often occur during heavy rainfalls and flash floods which causes the land to move.
Moving Prices from Major Cities
Moving to another state is pricey, especially when you are relocating from a major city. This is the reason why it is essential to have an idea of how it will cost to prepare your pocket when the day comes. Here are a few examples:
New York, NY to Utah= $2,641
Chicago, IL to Utah= $2,155
Houston, TX to Utah= $1,494
Los Angeles, CA to Utah= $670
Philadelphia, PA to Utah= $ 2,476
Phoenix, AZ to Utah= $1,440
Housing / Real Estate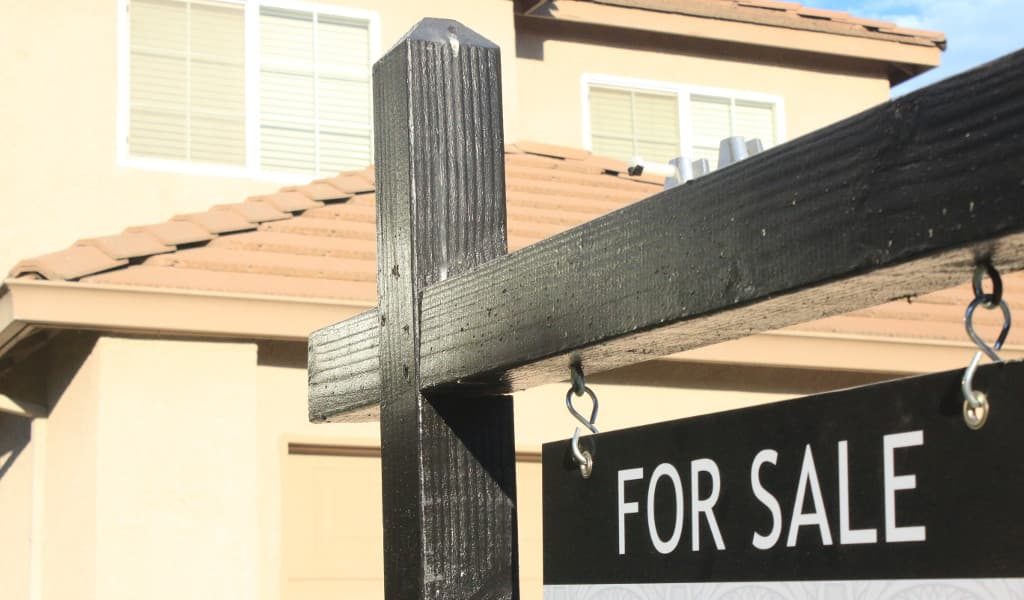 When moving to Utah, it is always important to choose to either buy a house or rent one. The housing cost is pretty much expensive when compared to other states. Real estates, however, are a lot cheaper as most have empty lots and are free to be checkout. The state's home values have increased by 10.2% since the past year. The state has a median home price of about $338,200 while renting costs around $1,425/month.
Price of Living
Though housing prices are high, the state balances it with its low cost of living in its areas. This is due to the cheap prices of the basic needs of the people such as groceries, utilities and health care services, many more. Using EPI's Family Budget Calculator, a list of examples are given to know the average monthly and the annual cost of a family with 4 members (2 adults and 2 children) in 5 cities of Utah:
Salt Lake City, Metro area

HOUSING: $1,035
FOOD : $726
CHILD CARE: $1,321
Transportation: $1,148
HEALTH CARE: $906
OTHER NECESSITIES: $710
TAXES: $952

Monthly Total: $6,798
Annual Total: $81,578

Logan, Metro Area

HOUSING: $702
FOOD: $713
CHILD CARE: $1,101
Transportation: $1,247
HEALTH CARE: $1,117
OTHER NECESSITIES: $571
TAXES: $820

Monthly Total: $6,271
Annual Total: $75,256

Weber County

HOUSING: $818
FOOD : $706
CHILD CARE: $1,178
Transportation: $1,218
HEALTH CARE: $923
OTHER NECESSITIES: $615
TAXES: $829

Monthly Total $6,288
Annual Total $75,451

St. George metro area

HOUSING: $863
FOOD : $764
CHILD CARE: $1,221
Transportation: $1,232
HEALTH CARE: $1,127
OTHER NECESSITIES: $656
TAXES: $957

Monthly Total: $6,820
Annual Total: $81,841

Beaver County

HOUSING: $704
FOOD : $759
CHILD CARE: $1,178
Transportation: $1,304
HEALTH CARE: $1,139
OTHER NECESSITIES: $590
TAXES: $897

Monthly Total: $6,571
Annual Total: $78,850
Demographics
According to the World Population Review, the state of Utah has a population of around 3.22 million in 2019. The median age of the population of the state is around 30.3 years old. It has a ratio of 49.7% females and 50.3% males. Below is a list of its Demographics from the US Census Bureau:
White: 86.43%
Other race: 5.19%
Two or more races: 2.95%
Asian: 2.29%
Black or African American: 1.18%
Native American: 1.07%
Native Hawaiian or Pacific Islander: 0.89%
Education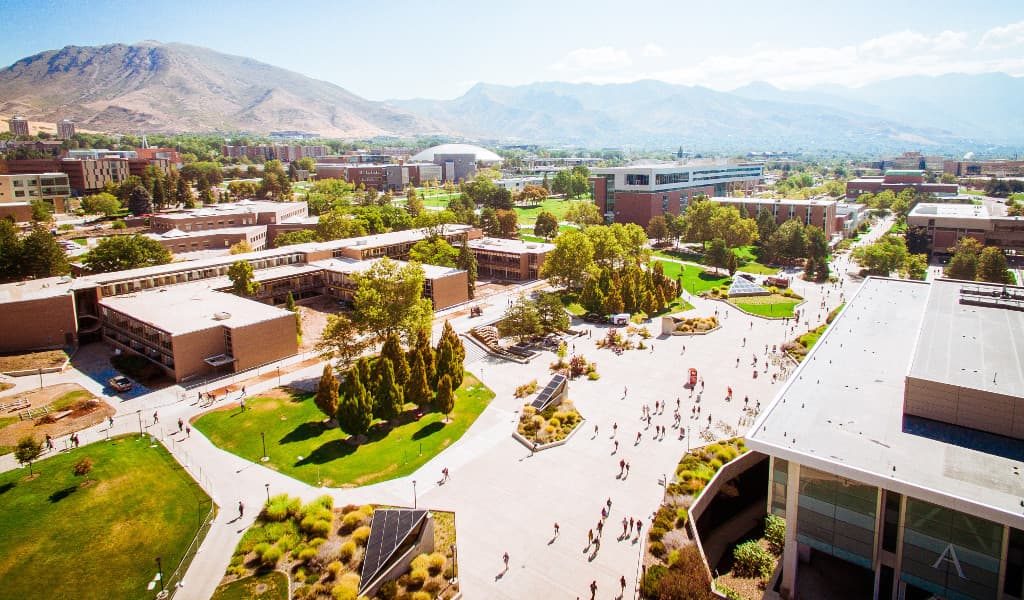 Utah is known to have a high-quality education due to its top-achieving educational institutions. The state is known to produce above-average grades from their students due to the schools high standards in learning. As a result, most citizens are eligible to work for various high paying companies. Below is a list of the state's top schools:
Top Educational Institutions
Healthcare and Medical Institutions
The state of Utah has created various programs in order to improve and develop its health care systems. This is to help provide better health services to its citizens and also to promote further growth. Utah's Department of Health is the one responsible for providing an advance health equity and lessen health disparities in the state. It also has launched various plans along with other health organizations for the year 2017-2020. Below is a list of:
Top Medical Institutions:
Utah Valley Hospital
Intermountain Medical Center
Dixie Regional Medical Center
Alta View Hospital
McKay-Dee Hospital
American Fork Hospital
Tourism / Attractions
Utah's tourism is managed by the Office of Tourism. Its mission is to improve the state's economic contribution of tourism in order to make it a better place to live for its citizens. The state is known to have countless tourist attractions which not only benefits its economy but also satisfies the citizen's recreational needs. It has amazing attractions which will provide an unforgettable experience for its guests. Below are some of its top attractions:
Temple Square
Capitol Reef National Park
Lake Powell
Red Cliffs
Buckskin Gulch
Top Cities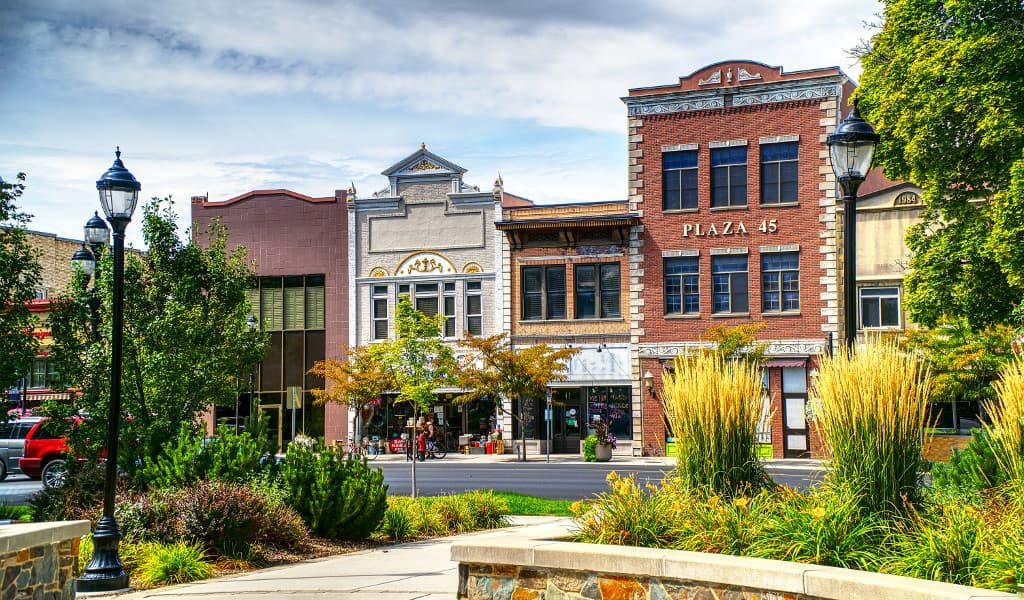 The state has also amazing cities that are beautiful and full of friendly citizens. The cities of the state are what makes it unique and interesting. Each of these has something to offer such as great food, unique experience, attractions and many more. Below are some of its top cities:
Park City

The city is famous for its marvelous ski resorts during winter in which tourists can go skiing and snowboarding in its slopes filled with snow. It is also the venue of the mid-winter Sundance Film Festival wherein famous celebrities, film-makers, and movie fans from around the world celebrate.

Salt Lake City

The capital city of Utah is known for being the center of the Mormon Church which was founded by the Brigham Young and members of the Church of Latter-Day Saints. It is located beside the Wasatch Front urban corridor in the Salt Lake Valley.

Moab

The city of Moab is located southwest of Utah. It is often visited by tourists worldwide due to its fascinating landscapes wherein they can go hiking, biking, camping and many more. The city also has a museum dedicated to dinosaurs which include fossils, dinosaur bones and archaeological artifacts.

Provo

The city of Provo is the 3rd largest in Utah. It is well known for its various museums such as the Monte L. Bean Life Science Museum, the BYU Museum of Paleontology and Crandall Historical Printing Museum. The city also provides easy access to the national parks and canyons to the south, and ski resorts to the north.

Ogden

Ogden is located north of Salt Lake City. It has various ski resorts and attractions such as Powder Mountain, Snowbasin, Nordic Valley, and the famous George S. Eccles Dinosaur Park. The city is also home to the historic 25th Street which has now become a shopping and dining area for locals and tourists.

St. George

The city is known for its beautiful natural environment. It was named in the honor of George A. Smith, a Mormon apostle who urged settlers to eat raw potatoes to treat scurvy. The city is nearby the Snow Canyon State Park which has trails, sandstone cliffs and dunes.
Job Market
Utah's job market is one of the strongest in the state. It was ranked 2nd for job growth of all the states according to Federal Data. This is due to many job opportunities, low unemployment, and the support of the government in the state. In addition to this, most of the state's citizens have acquired the educational requirement that is needed for the job they like to apply to. The state's official website also has a job page in which citizens can find vacant jobs. With only a 2.9% unemployment rate, Utah's economy is also benefiting from the growth. Below is a list of top hiring companies in the state according to careeronestop:
Top Hiring Companies
University Health Care
University of Utah Health Care
B Y U Conference Ctr
Intermountain Medical Ctr
C R England Inc
Young Living Essential Oils
Economy
The state's economy is one of its advantages due to being stable and strong. Businesses and companies grow and develop due to its booming job market and many job opportunities for its citizens. In addition to this, Utah's agricultural and tourism helps in its growth due to the continuous support and financing of the government. A strong economy is a sign that the state is successful and is able to fulfill the needs of its citizens. According to U.S. News, it's economy is ranked 2nd amongst other states.
Top Industries:
Advanced composites
Aerospace
Digital media
Distribution
Data Media
Things to do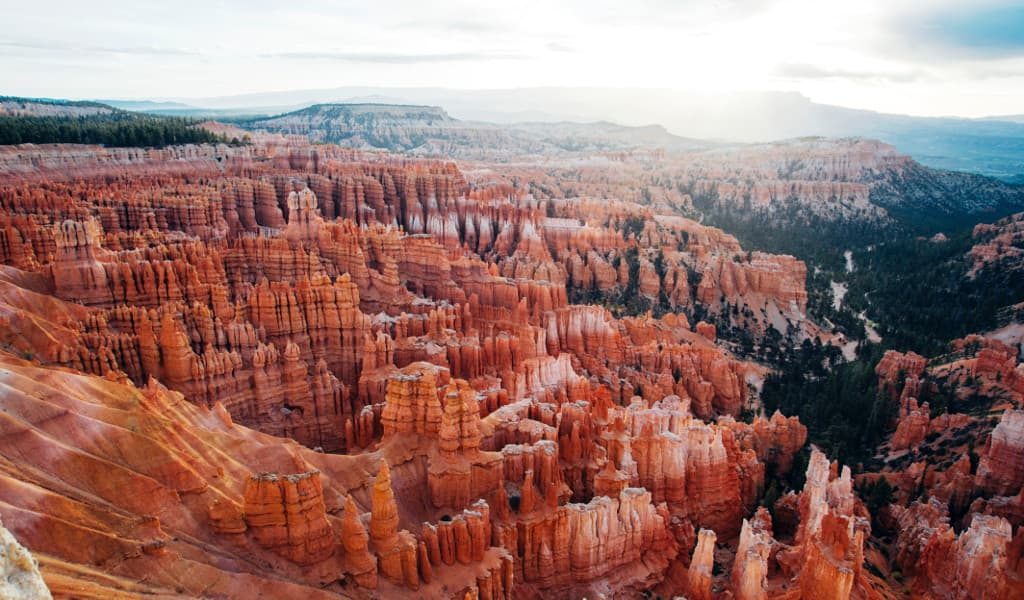 Each tourist attractions in the cities of Utah has many various outdoor activities which will give you fun and adventure. From skiing in its beautiful resorts to hiking in its breathtaking cliffs, it surely will give anyone an unforgettable experience. This is why Utah is often visited by thousands around the world not only to enjoy its scenic landscapes but also experience what it has to give. Below are some attractions in the state:
Arches National Park

Located in Moab, Utah, the site is known for having 2,000 natural sandstone arches like the red-hued Delicate Arch and the Landscape Arch. It offers many activities to its local and guest such as touring in a jetboat during sunset, touring arches by rafting, go hiking in its scenic terrains and rent a jeepney to explore more.

Bryce Canyon National Park

The attraction is famous for its spire-shaped rock formation known as the crimson-colored hoodoos. The site overlooks Sunrise Point, Sunset Point, Bryce Point, and Inspiration Point. Tourists and locals can enjoy day tours, homey inns, hiking and camping.

Park City

Park City is known for its Sundance Film Festival and the 2002 Winter Olympics. It is a perfect tourist site for all seasons as well. Tourists and locals can enjoy hiking, biking, fishing and lodge in its beautiful inns during summers. Winters provide perfect skiing and snowboarding spots in its slopes.

Dinosaur National Monument

Love dinosaurs? Then this is the perfect site for you. This attraction will take you back in time to the world of prehistoric dinosaurs. Enjoy and discover fossils of these historic animals which are embedded in its rock formations. Tourists can also go rafting in its rivers and biking in its trails.

Temple Square

The site is filled with history, amazing architecture, and delicious cuisines. It is one of the most famous tourist attractions in Salt Lake City as it is filled with various activities such as going to its Church History Museum and Family History Library.

Lake Powell

Lake Powell also called America's lost national park, is famous for its placid blue waters that run straight into beaches. It offers tourists various activities like swimming, boating, hiking, and camping.

Monument Valley

The scenic landscape attraction dates back 3000 years ago and is characterized by sunbaked, deep canyons and towering buttes. It has one of the most breathtaking sites where tourists can go hiking in its trails, horseback riding, rafting in its waters, and camping under the stars.

Capitol Reef National Park

The site is famous for its incredible landlocked version of a tropical reef, white domes, and jutting spires. It has rivers, trails, inns, and many more wherein various activities can be done such as backpacking, camping, horseback riding, fishing, exploring and many more.
Public Transport
| | |
| --- | --- |
| TRANSPORT | FARES |
| UTA Buses | Adult: $2.50 Senior: 1.25 Child/Youth: $2.50 Roundtrip: $5.00 |
| FrontRunner | Adult: $2.50 Senior: 1.25 Child/Youth: $2.50 Roundtrip $5.00 |
| Express Bus | Adult: $5.50 Senior: $2.75 Child/Youth $5.50 |
| Paratransit | All Ages: $4.00 |
| Amtrak | Depends on Location |
| Greyhound | Depends on Location |
| Yellow Cab Utah | Average $20-$94 |
| Salt Lake City International Airport | Depends on Location |
Crime and Safety
The Utah Department of Public Safety is responsible for providing a safe place for citizens in the state. It is composed of various divisions and bureaus such as Utah Highway Patrol, State Bureau of Investigation (SBI), State Fire Marshal, Bureau of Criminal Identification and many more. The crime rate in Utah has been low for the past 17 years according to city rating. Its national violent crime rate average is 38.86% while the national property crime rate is 20.43%. The state is ranked 4th in crime safety amongst other states. In addition, World Population Review, has listed it as one of the safest states to live in.
Acquire a new driver's License
When moving to a state, it is important to also update and acquire necessary documents and IDs. One of these is getting a new driver's license, as your old one will be invalid to use. To prevent any problems when you drive, it is essential to get a new one after you have settled. Below are some steps on acquiring a new driver's license in the state of Utah:
Schedule an appointment or walk-in at the nearest driver's license office in your location.
Fill in and complete the driver's license application form. (the form is available online for download)
Get your photo taken.
Submit proof of driver's education or surrender your old one that was valid from the other state. (if none is available, you will need to carry a learner's permit for 90 days and take the Traffic Safety and Trends Exam online)
Provide necessary requirements such as Proof of Identity, Social Security Card, and 2 documents of Utah residence address.
Pass the vision test, written knowledge test, and driving skills test.
Pay the non-refundable fee of $32.00 if 21 and older and $39.00 for provisional if 20 and under.
A temporary license will be given once all the requirements are completed successfully. The new driver's license will be then mailed to you for about 8-10 weeks.
Road Safety, Highways, and Routes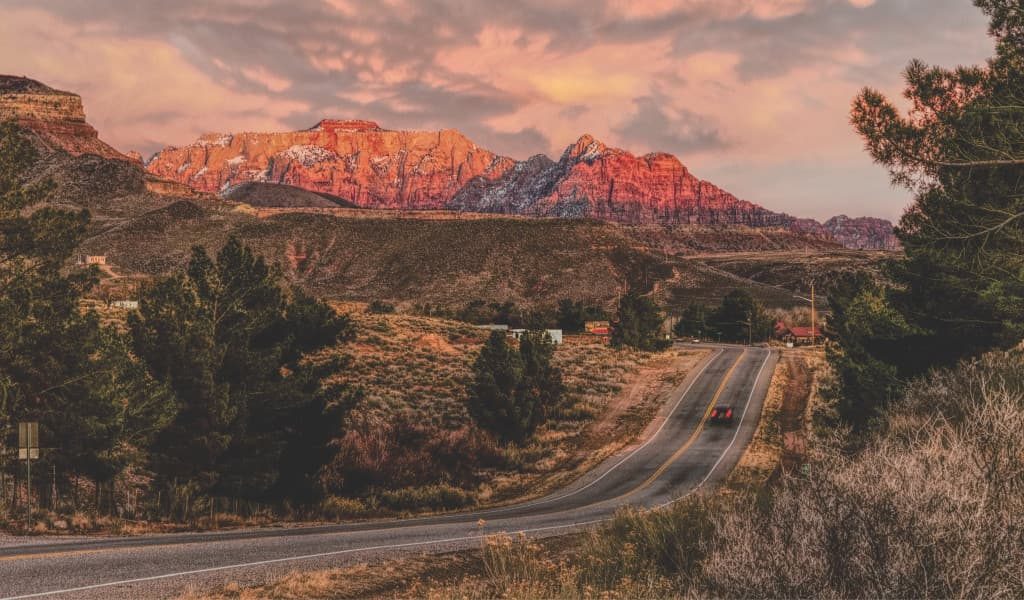 Utah is composed of vast terrains and beautiful desserts which is why most roads in the state are long and straight. Highways sometimes lack speed bump which is the reason most driver's speedup when driving. Though saying this, the state's highways and routes are protected by the Utah Highway Safety Office. Its mission is to develop, promote and coordinate traffic safety in the state. Below is a list of the state's highways and routes:
SR 14
SR 18
SR 19
SR 24
U.S. 89
U.S. 91
U.S. 189
U.S. 191
U.S. 89A
Museums
The state has many arts and historical museums under its belt. Each has its own beautiful art galleries and artifacts that are filled with historic stories. Below are some of its most famous museums:
In the end, is moving to Utah worth it?
Moving to the new state like Utah is indeed complicated and stressful as there are many things to take into consideration the cost of living, housing, crime, and many more. But after brief research to its beautiful state, it is safe to say that it is really worth it to move into Utah. With countless scenic and unique landscapes in each of its cities, relaxation and fun are just a mile away. Not to mention is the low cost of living and many job opportunities that awaits its future settlers. It will surely be easy to adjust your budget. Its economy is also very strong which is a perfect place to invest and grow a business if your planning to have one. Moving in the state of Utah is indeed a good choice and will definitely benefit those who love nature.
How to Move to Utah
Moving can be quite confusing especially when it is your first time to do it. It can be stressful most especially if you don't' know how to do it properly. Take a look at our downloadable moving checklist to help you with the relocation process. Below is a simple guide to help you out:
Plan Ahead

Planning is the first and most important step in moving. This will help you organize the things you should do and also be prepared for what problems may occur. Some of the things you should plan ahead are budget, moving companies to hire, packing and many more.

Downsize

It is always good to consider to downsize the things you need to move. Downsizing will help you pack lighter and also easier. You can do this by listing things that are essential to bringing and things you can leave behind.

Get Moving Quotes

Getting moving quotes from various moving companies will help you know how much you will need to spend. This is essential so as to help you plan your budget easier and be ready when payment is needed.

Book Movers

Booking movers will make things easier during your relocation. Aside from picking one that fits your budget, always choose movers that have much-needed experience and great reviews from other people.

Visit Your New Area

Visiting your new area will let you know how to get there faster. Also, it will give you an idea of what your new neighborhood will be like and what to expect when you stay there.

Start Packing

Packing your things in advance will lessen the stress when the day comes. Packing your clothes in advance or storing important things in the in its moving boxes. is a good example It will also prevent you from forgetting important things. Always double-check the things you have pack before moving.

Create Essential Box

An essential box is what you will bring beside you when you move. Creating one will make it easier for you to get things that you usually need when traveling. Some of the things commonly place in there is water, first aid kit, snacks, tissues, etc.

Say Farewells

Goodbyes are never easy but of course, it is the proper thing to do. Let relatives, friends, and colleagues know that you are moving so to prevent any miscommunication from them. Make sure to update them of your new location once you have moved.

Get Some Rest

Getting a much-needed rest is important to let you be ready for the eventful day. Get plenty of sleep or have a nap will help your body get the energy it needs during your move. It will also help you clear your mind and lessen the stress during your move.

Enjoy the Move

Moving is fun once everything is settled. Enjoy it by having fun sightseeing during your travel to your new area or taking a walk in your new neighborhood and meet your new neighbors after you move.
Moving Services to help you relocate to Utah